On This Day, 13th January 1882: A Murderous Assault at Stockton
For our first On This Day of the new year we take you back in time to 1882 for a "Murderous Assault at Stockton".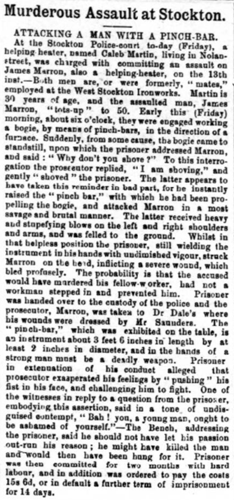 Any news article starting with "both men are, or were formerly, "mates" employed at West Stockton Ironworks" can't end well, and this is no exception.  The Northern Evening Mail recounts the story of "Helping Heaters", Caleb Martin and James Marron.  To be fair to Martin, most people would be a bit grumpy working a furnace in a Victorian Ironworks at six in the morning.  However, his reaction to some workplace banter was a little on the excessive side.  After struggling to move their bogie towards the furnace Martin took exception to a shove from Marron:
He instantly raised the "pinch bar", with which he had been propelling the bogie, and attacked Marron in a most savage and brutal manner.  The latter received heavy and stupefying blows on the left and right shoulders and arms, and was felled to the ground.  Whilst in that helpless position the prisoner, still wielding the instrument in his hands with undiminished vigour, struck Marron on the hand, inflicting a severe wound, which bled profusely.  The probability is that the accused would have murdered his fellow worker, had not a workman stepped in and prevented him.
Martin insisted that Marron gave him a "fist in his face", but the judge was not in a conciliatory mood, sentencing him to two months hard labour with a rather fine sounding Victorian declaration that
...he should not have let his passion out-run his reason.
Solid advice from the archives.  To make use of the British Newspaper Archive, visit any Stockton Borough Library and access this tremendous resource.