An Amateur in the Graveyard
A guest post from Sarah McClennan about using graveyards for family and local history:
For several years now I have enjoyed visiting churches and graveyards taking in their beauty and history. Some perceive cemeteries as morbid places, but I see them as places of memory, where people can be celebrated and remembered once again. I am an amateur and have visited over 30 churches and their graveyards across the North East. I have found many beautiful places and found fascinating things.
For those keen on local or family history graveyards contain a wealth of information that can help with their research.
Family history
If you are able to locate where a relative is buried it might be useful to find their headstone. On many old headstones you find other relatives who are commemorated on the same stone. This can help fill in missing information, such as dates of birth or death, unknown relatives, or working out real first names (nicknames can often cause confusion when researching family history).
This headstone for the Adamson family (Linthorpe Cemetery, Middlesbrough) is a good example. They've managed to commemorate seven people on one stone. When I first came across this family I was so tremendously sad for them as many of their children had survived childhood, but died quite young, even for the nineteen century.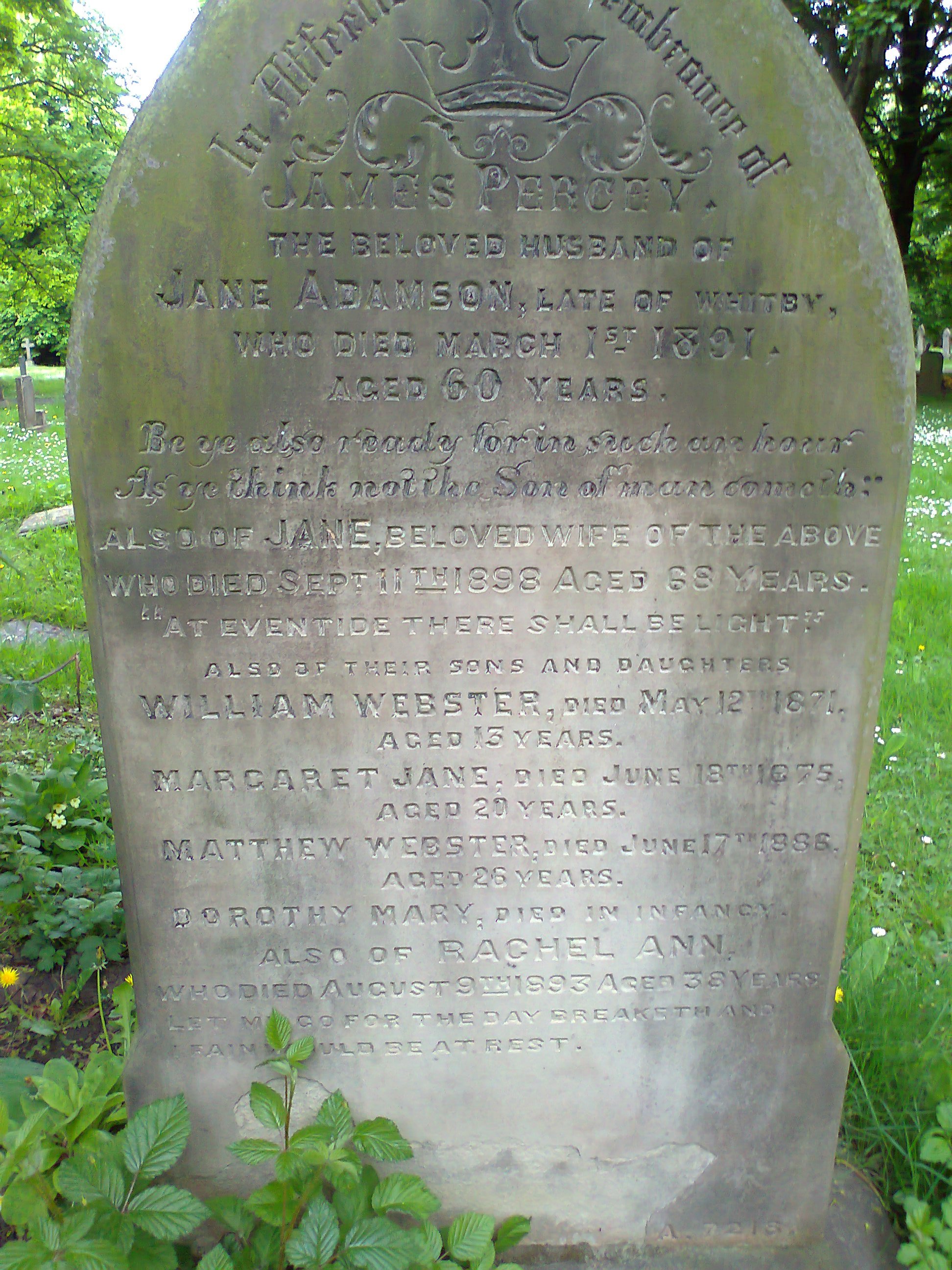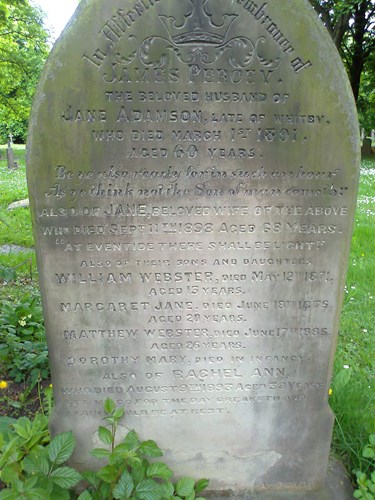 Sometimes you can be you can be lucky enough to find you have a family monument. This Scottish monument not only comes with the same wealth of information as the Adamson's, but it also lists things like Duncan McCallum was a merchant, his son Edward was lost at sea, and his other son Archibald fell at Ypres.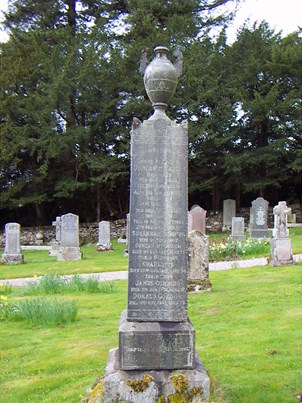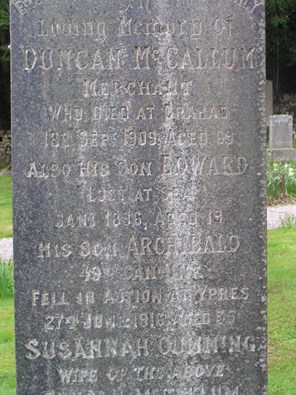 Local history
Taking a look at some of the inscriptions on headstones at random can provide a goldmine of information. Each person buried was once part of the village or town the church served and played a part, directly or indirectly, in its development. Many inscriptions will be fairly standard, but some may surprise you, or the spelling of a name might be perplexingly unique and pique your interest into extra investigation, this is where the story begins. The key thing to remember it not to be taken in by the flashy monuments, yes, they will have interesting tales to tell, but mostly likely are of already well documented individuals. Simple headstones can also give notable stories, just ones that have been forgotten.
One that I discovered was the sad tale of William who lies in St. Peter's Church in Bishopton. At the age of 12 he'd been "killed by an enc....". The headstone was damaged, I also couldn't make out his surname, it goes on to say that the memorial "was erected as a tribute of respect & affection by the vicar, choir & parishioners". I was confused. What on earth had cut poor William's life so short? I enlisted the help of the reference library staff and they were able to find the gravestone inscription list for St. Peter's church. William Wetherell had been killed by an Engine on 4th June 1874. With this information it was now possible to look for contemporary newspaper articles. The library holds many newspaper archives on microfiche, but www.britishnewspaperarchive.co.uk was the better option as St Peter's was in Bishopton and the incident was unlikely to be in a national paper nor Stockton's local papers. An old copy of 'Yorkshire post and Leeds Intelligencer' held the answer:
"Fatal accident on the North-Eastern – On Thursday afternoon, about three o'clock, a telegraph boy named Wetherall employed upon the North-Eastern Railway, was killed by the afternoon express from Newcastle to Stockton. Deceased, who lived at Bishopton was employed at the Stillington weigh. He had passed a standing mineral train to catch the letters thrown out of the express, but was unable to cross the line in front of the express. His head was struck by one of the engine buffers, and he was killed upon the spot."
So that's William's story. He was forgotten, 146 years ago he died, but now we all know his story, so he lives again in our memories. He clearly was much loved, for the entire village chipped in to pay for a headstone of a size his family probably would not have been able to afford otherwise.
This tells us of the person and of the kindness of the people. But it also tells us of the industry of the time, how children did dangerous jobs, and what was involved in those jobs, all from following an inscription on a gravestone.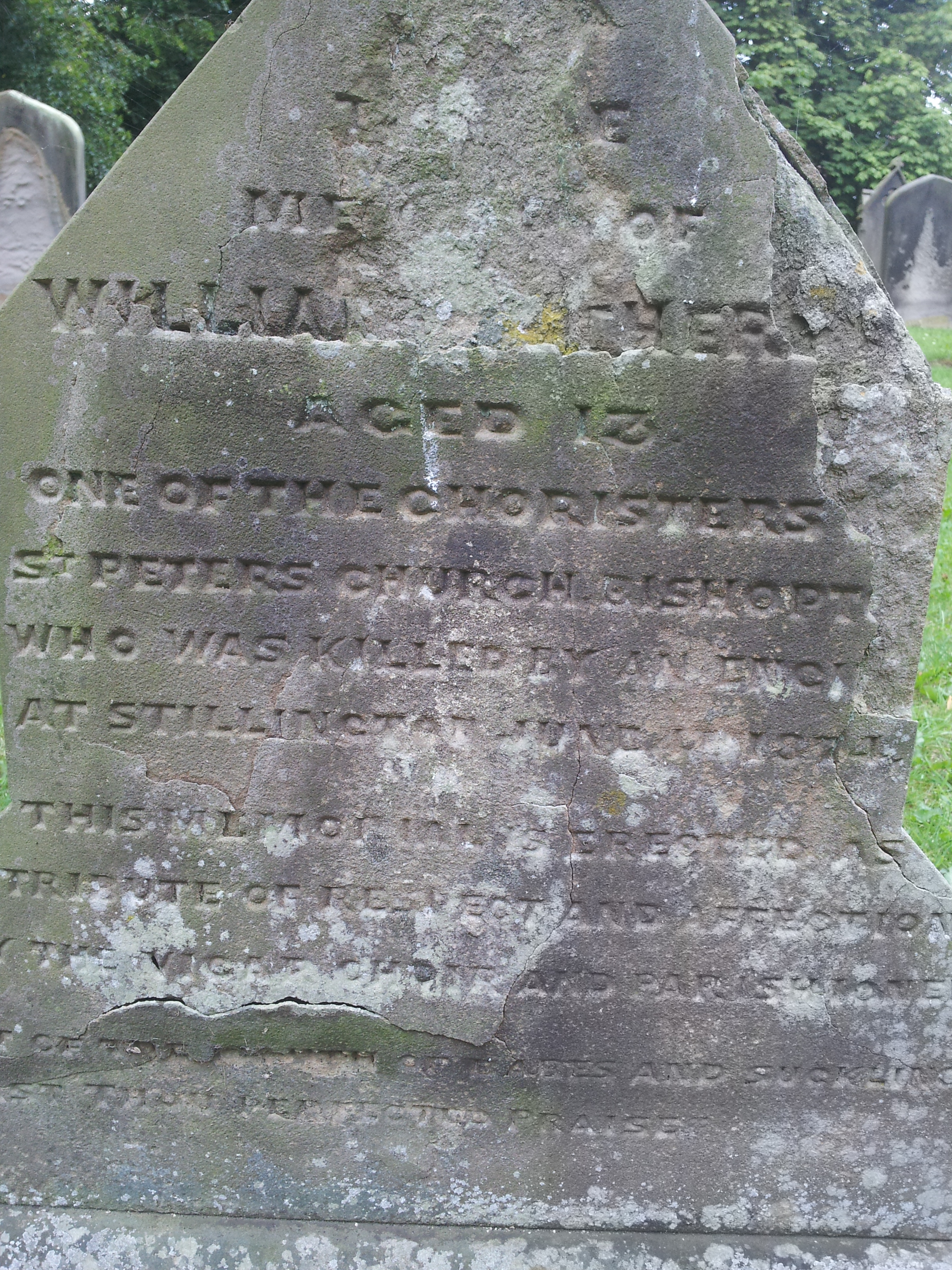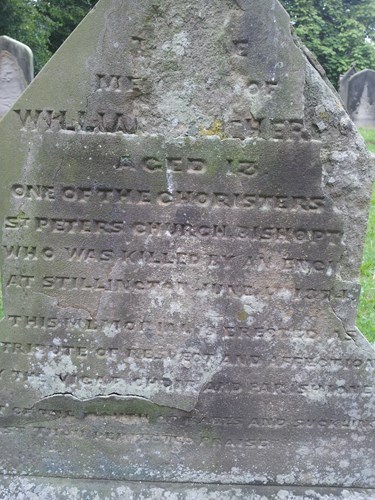 Recommended churches
Start by going to your local graveyards and seeing what you can find, the older the churchyard the better. When we're permitted to travel again I can recommend the following:
Escomb Anglo-Saxon Church - The best and oldest I have been to, but that is a very long drive away. I got an extra special thrill because they entrust you with a key to the church to get in.
St Hilda's, Danby – beautiful old church, some headstone dating back to 1700's
St Michael's, Coxwold – church has interesting ceiling bosses, headstones dating back to 1700's
Spion Kop Old Cemetery, Hartlepool Headland – an amazing wild place, so full of fascinating headstones you won't know where to begin. Wrap up warm as the sea breeze will get you. Many lost a sea find a mention here.