From Foundry to Front Line: Tracing a Life Through Public Records
Many thanks to Sarah from Billingham Library for producing this fantastic post.
I've run many local history sessions for children to help them learn about the history of their town - Billingham. I find the best way to grab their interest is with pictures. To get them exploring the past with their eyes, start asking questions and get involved. So I'm always looking for a picture with something a bit different in it, something the children would want to discuss.
This is when I stumbled across Bill Handley in front of St Cuthbert's Church in 1911. I knew this would be perfect as the children of the digital age would be mystified by the strange wonky stick he held in his hands. They would look at me like I was mad when I told them it was called a scythe and he was about to cut the grass.
But who was Bill Handley, and what had become of him? This striking figure photographed 110 years ago made me want to find out more.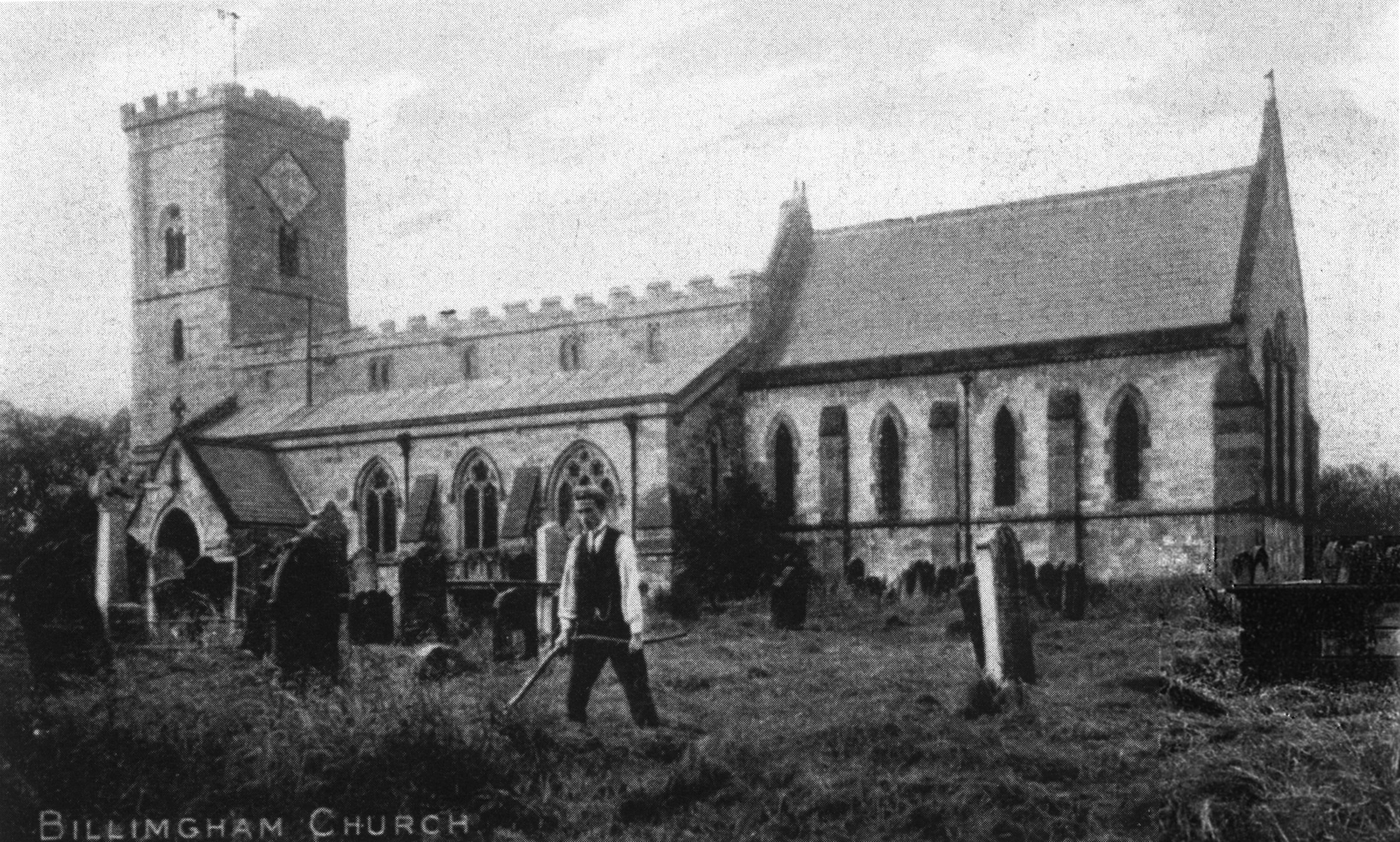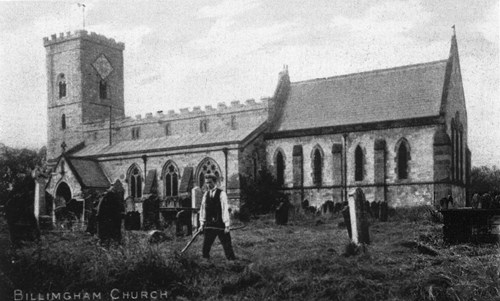 (Picture Stockton Archive https://picturestocktonarchive.com - courtesy of Stockton Library Service, Stockton Borough Council)
Origins:
William Handley was born in 1883 in Billingham to Mary and James Handley. He was the fifth child, but his parents went on to have 6 more children after him. They did not all live together at the same time – 13 people in one house would have been a little crowded. By the time Bill was 8 his three elder sisters had moved out and gone into service and lived with the families they worked for as servants. The youngest of the three, Lizzie, was only 15 when she went to work at Elwick Hall, the same age as my niece. I can't begin to imagine my niece having to leave her family and live with strangers, it would have been so isolating. For Lizzie it would have been a 4 hour round trip to visit her parents and there was of course no phone.
The Handleys lived on The Green, which is a stone's throw from where the original photo was taken. The house was possibly knocked down when many of the Victorian buildings, including shops and the school, were demolished in 1969 and modern flats were built. Thankfully this did not encroach on The Green itself, leaving the area still pleasant.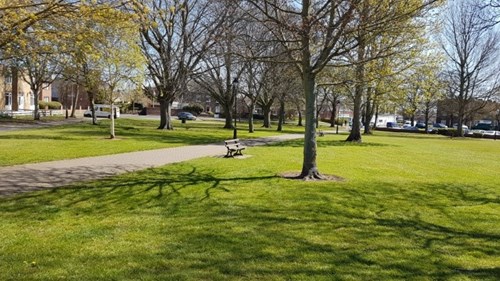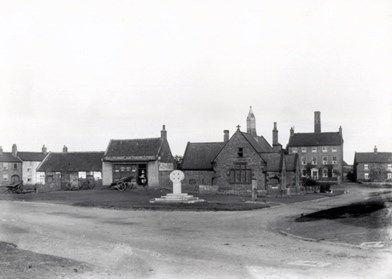 Billingham Green 2021 and 1900
(Left image: Taken by Sarah McClennan. Right image: Picture Stockton Archive https://picturestocktonarchive.com - courtesy of Stockton Library Service, Stockton Borough Council)
Church:
Like many churches St Cuthbert's was not the first to be built on this spot. It has also been altered and added too over the centuries since its first creation in the 9th century. Legend has it that the bones of St Cuthbert rested in Billingham on their travels to Chester-le-Street after the monks of Lindisfarne rescued them from the invading Danish raids. So the church is dedicated to St Cuthbert.
During Bill's lifetime he would have known two vicars, Rev. Philip Rudd (1852-1901) during his younger years, but for most of his life, and at the time of this photograph, the Vicar James Ousey (1901-1927) was serving. We know that Bill was too young to hold any prominent position in the church and he isn't mentioned in what records are currently available. So most likely this picture shows him doing a voluntary job as a church attendee.
If Bill visited St Cuthbert's today he would have wondered if he had the right church. A large portion of the east end of the church, containing the chancel, was completely rebuilt in 1938. It also included the Lady Chapel, St Owsald's Chapel and new vestries. At the time Billingham's population was rapidly increasing due to employment from ICI, so the church needed to accommodate its swelling congregation.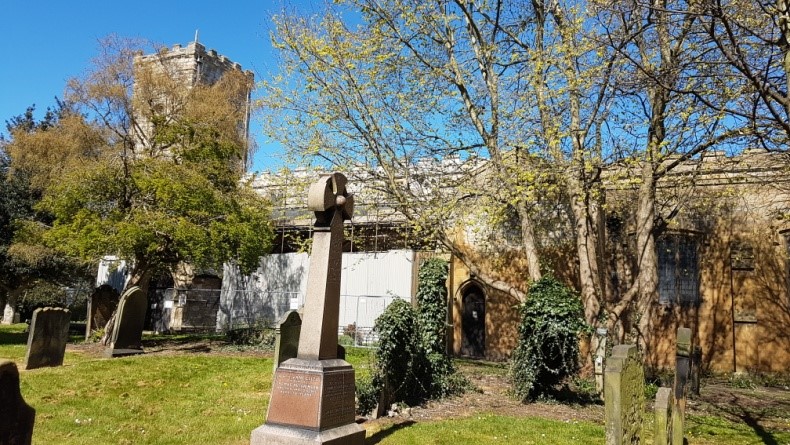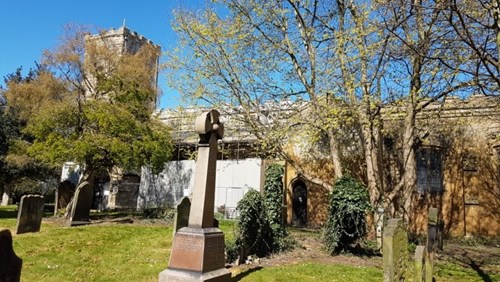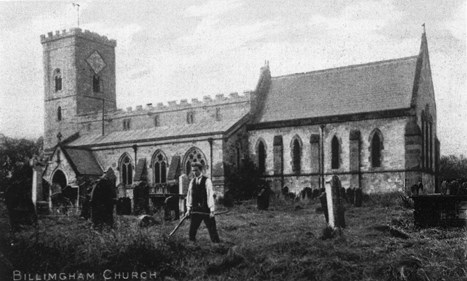 St Cuthbert's Church 2021 and 1911. You can see how huge the extension was.
(Left image: Taken by Sarah McClennan. Right image: Picture Stockton Archive https://picturestocktonarchive.com - courtesy of Stockton Library Service, Stockton Borough Council)
Industry:
Bill's father, James Handley, worked as the Foreman in a foundry. Billingham had been relatively small until iron works opened up in Haverton Hill in 1837. More opened up, different types of iron works included a blast furnace, which makes pig iron (also called crude iron) from iron ore, and an iron foundry, which melts the pig iron into iron goods. By 1901 Bill was working as an Iron Dresser in a foundry. Iron Dressers had to clean up the edges of the objects that had been cast from the molten metal. If things had gone well in the pouring, then the object should come out perfect, but if a bit of the sand mix used to make the mould had faltered or had not been precise enough, then the object would come out with imperfections. Mostly these could be fettled off by the iron dresser. Bill would also take care of the master mould too, which is what is pressed into the sand to make the indent for the molten metal to be poured into. Damage to a 'master' would mean all the 'copies' would be flawed.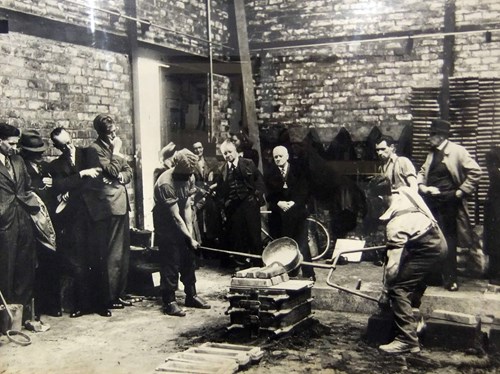 Workers at Stockton Castings (founded in 1947) demonstrating pouring molten metal into a mould.
(Picture Stockton Archive https://picturestocktonarchive.com - courtesy of Stockton Library Service, Stockton Borough Council)
Iron, once so important to Billingham, soon gave way to salt when a huge natural deposit was found in 1861. By the 1880s Haverton Hill had been taken over by the salt industry, the company Bell Brothers, already a local giant in the iron industry, began producing vast amounts, and other companies sprung up too.
Steelworks had also begun to be prominent in the area in the 1870s, the process also used pig iron. Initially there were issues in making Cleveland iron into decent steel due to the high phosphorus content, but when techniques were developed to remove these impurities the steel industry soared in Teesside. Some companies dabbled in salt, iron and steel, like Bell Brothers.
Ironworks were still very important, but now found in and around Middlesbrough. The majority were dedicated to blast furnaces as they supplied both iron foundries and steel mills, though some also owned foundries as well. Different goods were produced, for example James and Ronald Ritchie of Acklam Foundry produced iron pipework, whereas the nearby Anderston Foundry Company produced iron railway parts. Railway chairs (clips that hold rails in place) and rails, as well as steam engine parts, were all popular things to produce as this was in the midst of the age of steam, but also Teesside was the birth place of the first public railway, the famed Stockton and Darlington Railway in 1825. Cochrane and Co of North Ormsby Ironworks was also a notable foundry in the area, they contributed to both pipework and railway parts.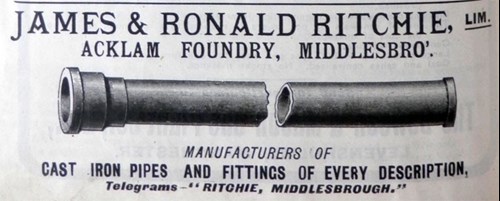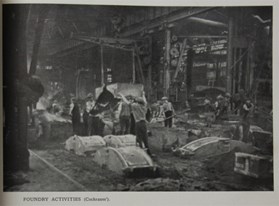 (Images courtesy of Grace's Guide to British Industrial History - www.gracesguide.co.uk)
As Bill would have been starting work after this geographical shift it's not clear which foundry he worked at. The closest to his home was Anderston Foundry Company in Port Clarence. Anderstons were also engineers who produced gas engines, as well as machinery for the textile and wire weaving industries.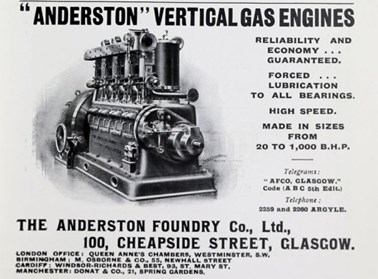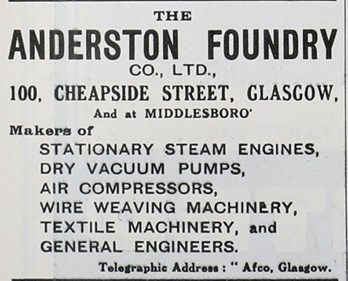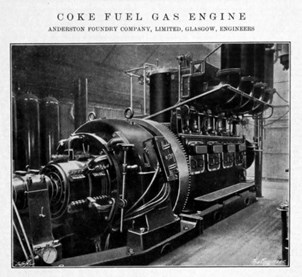 Anderston Foundry Company had works in both Glasgow and Middlesbrough
(Images courtesy of Grace's Guide to British Industrial History - www.gracesguide.co.uk)
Over the years the other ironworks in Billingham paled into insignificance when compared with the salt mines and ICI. Now William Lane Foundry in Middlesbrough is the last working foundry in the area, which has been running for over 150 years.
Bill did not stay long enough to see these changes.
Marriage:
In 1904 James Handley passed away, and with all the other Handleys leaving the nest that was perhaps why he didn't leave the family home until way into his twenties – he was supporting his mother. Or maybe he just hadn't met the right girl yet, because in 1912, at the age of 29, a 23 year old dressmaker by the name of Jane Simpson swept him off his feet and stole him away to no.34 Stockton Street to live. This was barely 5 minutes walk from his childhood home. The house is no longer there. If you walk down Stockton Street you'll see how it seems to stop oddly. New shops were built around the 40s not long after the WWII. As Teesside suffered from heavy bombing in a vain attempt to stop production at ICI it is most likely that end of Stockton Street took a direct hit.
On 27th August 1913 they had a child called Harry. But this new chapter in his life was not going to go the way he expected. A dark cloud fell over Europe and war was declared. In 1914 Bill enlisted.
War:
Bill would not have been forced to go war, conscription did not come in until May 1916 and even then some classes of industrial worker were exempt, such as those in the iron industry who would be involved in munitions. He joined up with over 100 other Billingham lads, including one of his brothers, Fred. He would have been known as part of the New Army, or more regularly referred to as Kitchener's Army, as it was made up of Lord Kitchener's volunteers – there were 2.5 million Kitchener's volunteers before conscription occurred in 1916. So enthusiastic was the take-up that the Army was ill prepared for supplying the new recruits, and soldiers were trained in their civilian clothes or old uniforms, such as from the Boer War.
These volunteers did not integrate with the already trained soldiers, they formed entirely new divisions. Bill was placed with the 17th (Northern) Division, part of the Northern Command meaning that all those who served there came from the North of England. He was a gunner in the Royal Field Artillery. These provided the artillery support for all the troops, and although the weaponry was horse drawn they were surprisingly mobile. Bill was in the 79th division which involved the use of Howitzers which were heavier hitting.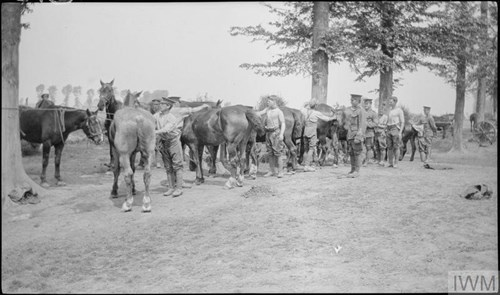 The 120th Field Battery of the Royal Field Artillery, similar to the 79th division as it was also a howitzer division, but was under the Welsh not Northern Command
(Copyright Imperial War Museum – ©IWM HU 108104)
The 17th (Northern) Division cut its teeth in the early years of the war in the Ypres area, this is where Bill and his fellow volunteers would have learnt the skill (and horrors) of trench warfare. They were involved with The Actions at The Bluff in February & March 1916, The Battle of Albert in July 1916 and The Battle of Delville Wood in July 1916.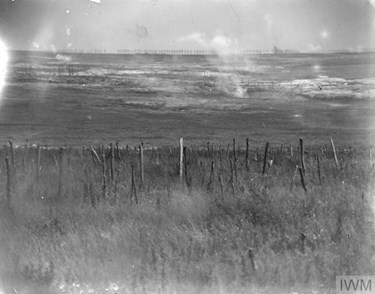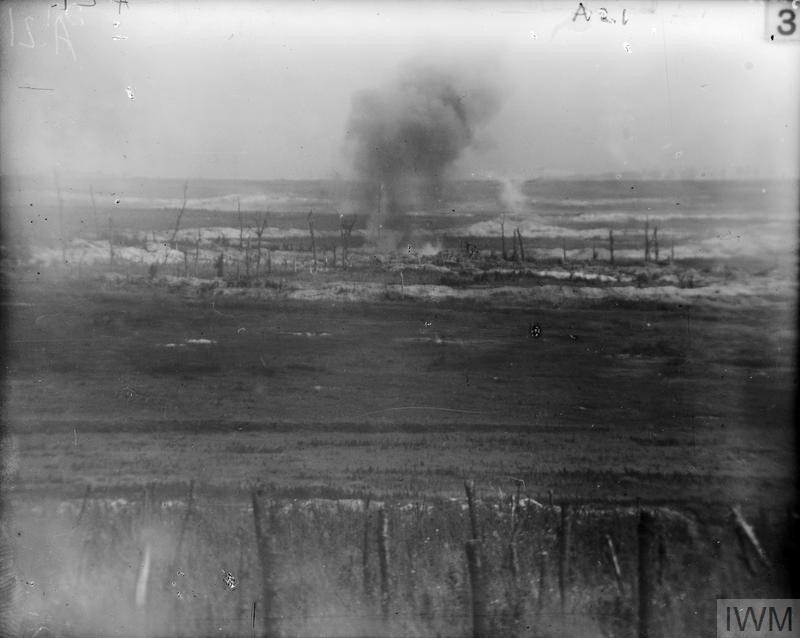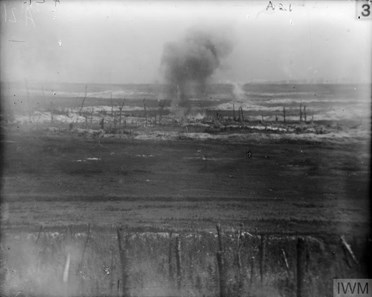 Bombardment of the German trenches prior to the battle of Albert
(Copyright Imperial War Museum – ©IWM Q6 & ©IWM Q21)
The Battle of Albert is arguably the most significant of these three as it is widely considered to have created the popular view of WWI. This was the first battle of the Somme, and it was a disaster. Field Marshal Haig's plan to smash through the German lines proved costly in lives, and impossible to hold onto most advances. Over 19,000 lives were lost in one day, with a further 38,000 casualties. Poor communications meant high command were unaware that it had gone terribly wrong. The area had been heavily bombarded with artillery for a week before the infantry were due to advance in the expectation that this would significantly damage defences, but this was not as effective as hoped. The infantry were the combined forces of French and English divisions. Along the Northern part of the line everything went disastrously wrong, causing most of the huge causalities, but further up the line the troops were more successful and gained ground. Haig decided to press the advantage where the attack had been successful and smash through German lines, but it ultimately left troops in unfamiliar territory with poor recognisance, damaged communications and weak supply lines. The chaos that followed caused more deaths and in some cases artillery was instructed to fire into friendly areas by accident.
Bill survived these frantic battles, but at some time after the battle of Delville Wood his luck ran out. He sadly died from wounds on 1st Nov 1916. His body, like that of many, never made it home and lies in Contay British Cemetery in France. He was 34 years old. However, his name is commemorated on the war memorial on Station Road in Billingham, along with 135 other names, including that of his brother Fred. Their names are also written in remembrance in another place – inside St Cuthbert's Church.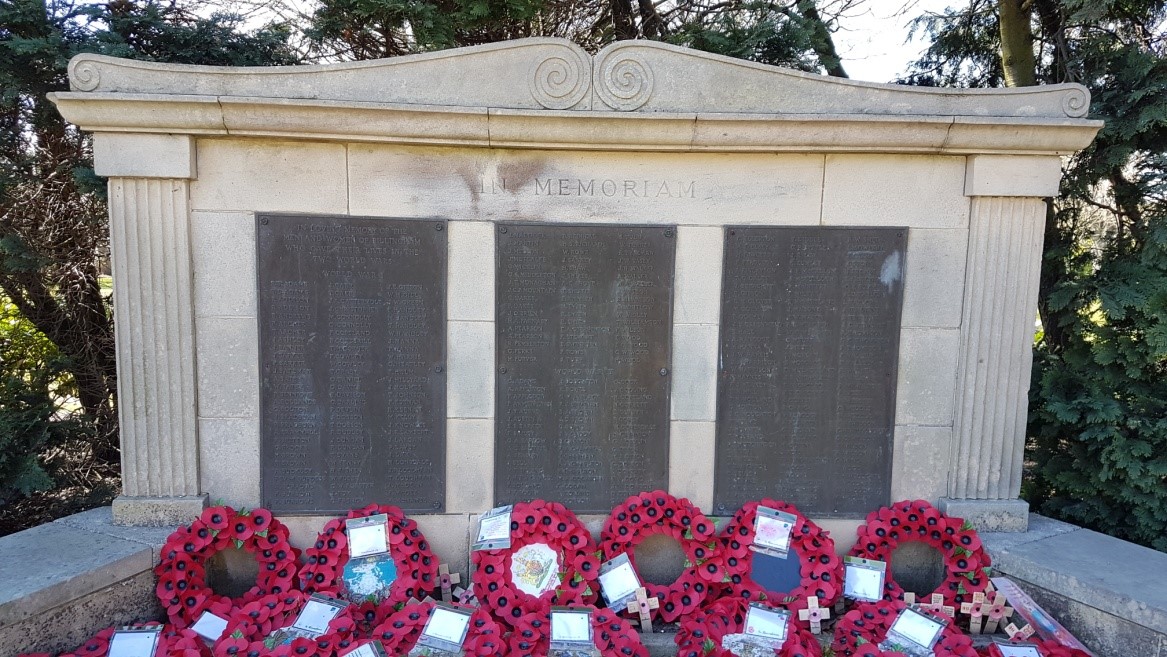 (Image taken by Sarah McClennan)
ADDITIONAL INFORMATION:
Billingham War Memorial:
The original memorial to those who died in WWI was not as it appears today. There was much debate as to how those who lost their lives would be commemorated and it was eventually settled on that a wooden hut measuring 60ftx30ft would house the names on plaques, it was dubbed Victory Hall. It was opened in 1920, and saw many events before it's demolition sometime between 1964-68. The plaques were reattached to the new stone memorial on Station Road where they remain today.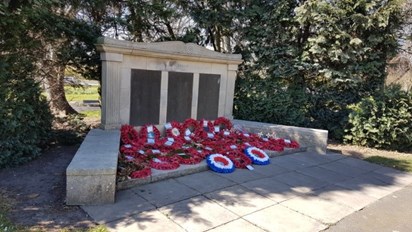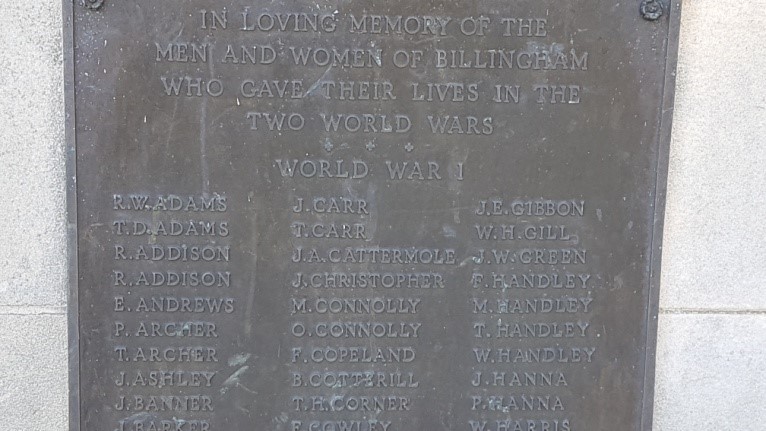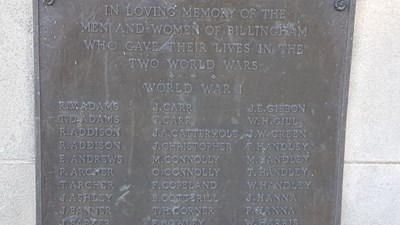 (Images taken by Sarah McClennan)
A Word on Censuses:
It's worth noting here that in my research I had a spot of bother with the censuses. On the Billingham war memorial there are four unfortunate Handleys, but only one of these is Bill's brother. The other two are Thomas and Matthew, brothers who came from nearby Wolviston. I wondered if they were relations and I had great difficulty in finding them as, according to the censuses of 1901 and 1911, they did not exist. If you are researching family history and come across such a conundrum ensure you realise two things – the census people of yesteryear were both occasionally slapdash in their spelling and not always decipherable in their handwriting. What is written on the census may be a spelling mistake or typo when transferred to the electronic record. If you are using Ancestry you can sometimes be given a clue to this having occurred because there is a pencil icon next to the name which indicates there may be a discrepancy.
I therefore decided to search for Handley again, but this time play around more with the 'search filters'. I turned the sliding bar to 'broad' for the surname and to 'county' for 'born in Billingham' and hoped this would help. Alas no. It appears that the search function was concentrating on the amount of letters in Handley's name, so I tried removing some. Hadley came up with nothing, but Hanley hit the jackpot. It was then I also learned they came from Wolviston. On two consecutive censuses the Handley's had been written down incorrectly – for one appalling moment I wondered if their names on the war memorial were incorrect, but all their birth, death and marriage documents point clearly to them being Handley.
I also wondered if the two families were related, but apparently not. Bill's father, James, hailed from Bishop Thornton in Yorkshire, whereas Thomas and Matthew's Grandparents had come over from Ireland. The world is full of coincidences, this is why we always need to check first.
How to find a war grave:
If you are looking to find a war grave you can go to the Commonwealth War Graves website www.cwgc.org and type the name of the person you are looking for directly into the search box then click on which of the three searches seems most appropriate, I used 'search in war dead'. The person may be listed with just their initial rather than their full name, so you may inadvertently block out the person you are looking for by writing the full name, so, for example, if you have no luck with 'William Handley', try 'W Handley', then 'Handley' if that fails. It helps if you know their service number as there are no extra details on the results page until you click into the record, and so it makes it easier to spot the correct entry. Thankfully, when you click into a record it does give you a lot of information, so you'll know if you've found the correct person.
You can further limit your search by clicking on 'find war dead' in the search result box and this will give you the option to limit your search to soldiers from a specific country. You can also put more details in, but again, beware putting too much detail in as you could accidentally exclude the person you are looking for if there is a discrepancy between the records you have and what is on their war grave.

Thanks
Many thanks to Sylvia Morgan for her help with information on St Cuthbert's Church and Rev Richard Radley for his assistance with St Cuthbert's Church.
Stockton Reference Library for looking for things when I could not (and for when I hadn't a clue).

References and sources of interest:
Billingham:
Waring, Louisa – 'St Cuthbert's Church Billingham' – Cleveland Press (198?)
Menzies, Paul – 'Billingham' – The History Press (2008)
Hatton, Colin – 'Haverton Hill: Port Clarence to Billingham' – Tempus Publishing Limited (2005)
Fletcher, Peter – 'Billingham in Bygone Village Days' – Peter Fletcher (1987)
https://picturestocktonarchive.com/
https://heritage.stockton.gov.uk/resources/head-wrightson/
www.englandsnortheast.co.uk/billingham
Industrial:
Dibnah, Fred & Hall, David – 'Foundries and Rolling Mills: Memories of Industrial Britain' – BBC Books (2010)
Grace's Guide to British Industrial History - www.gracesguide.co.uk
Anderston Foundry grate still in use www.hidden-teesside.co.uk/category/industry/
English Heritage video on historical iron casting - Engineering The Iron Bridge: Iron Casting From The 1700s - www.youtube.com/watch?v=SHoY0thM8jE
Fascinating video of a small workshop doing modern iron casting, same as how it's always been done except the furnace is now electric. I strongly suggest watching with no sound as there is a lot of unpleasant industrial noise and one case of bad language, all information is written clearly on the film (you can just pause if it's not on screen long enough for you). Sunset Foundry visit (Cast Iron pour) - www.youtube.com/watch?v=81W-pkHeTyo
War Related:
Imperial War Museum www.iwm.org.uk
www.longlongtrail.co.uk/army/regiments-and-corps/the-royal-artillery-in-the-first-world-war/
www.forces-war-records.co.uk/units/5000/royal-field-artillery
Historical footage of the Royal Field Artillery in action www.youtube.com/watch?v=MCsyd-FfGhk
Commonwealth War Graves www.cwgc.org
Family history resources:
www.ancestry.co.uk gives access to censuses and other public records and can be accessed for free at Stockton Borough Libraries.
For more information about what Stockton Borough Libraries can offer visit https://www.stockton.gov.uk/our-places/libraries/reference-local-and-family-history/