If there's a phrase that strikes fear into the hearts of librarians across the globe it's "otherwise they'll just have to go in the bin".  Not everything can be lovingly housed, catalogued and occasionally dusted in the safe confines of the library stacks, of course.  But each time we're offered a donation of potentially doomed books or magazines it's hard to resist the instinct that says "why, they can't take up too much space, surely."
And sometimes it's well worth finding a little extra shelf space.  We were very kindly offered a donation of "Images of War" magazines.  This ambitious series was published in the late 1980s and early 1990s and provides an account of life before, during and after the Second World War, with particular prominence given to eyewitness accounts.  What made the series especially interesting was the inclusion of a reproduction newspaper with each issue, along with occasional posters, postcards, ration books and identity cards.  It was a wonderful learning tool which really brought history to life. 
So there was no way we were sending them off to the recycling, especially as the magic words "complete and in excellent condition" also applied.  They're now safely in the Reference Store and we'll be putting them to good use for displays, learning and reminiscence sessions.
But if that wasn't enough, as an extra treat in amongst the glossy magazines and period reproductions were four newspapers, yellowing and fragile, actually bought on VE-Day itself.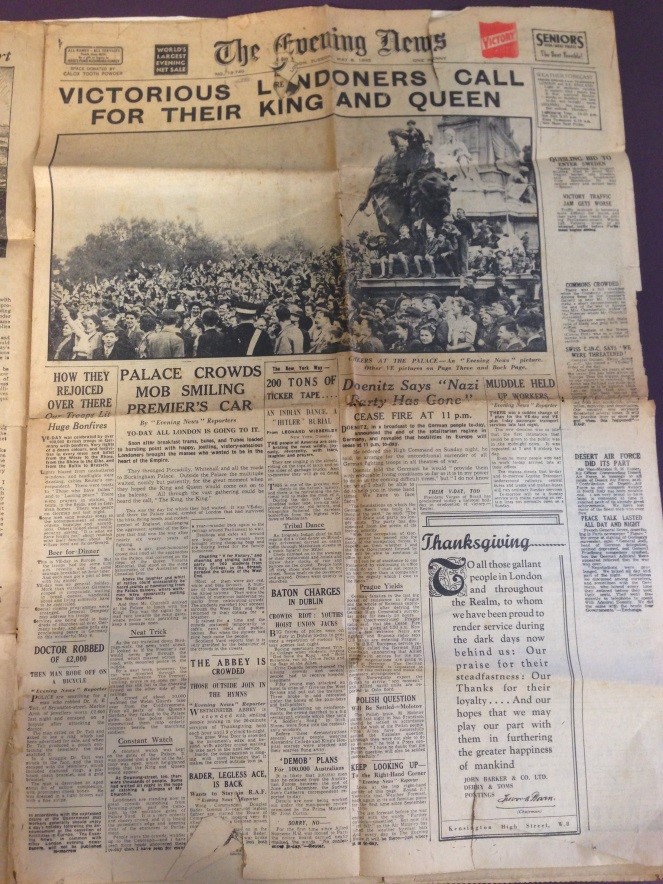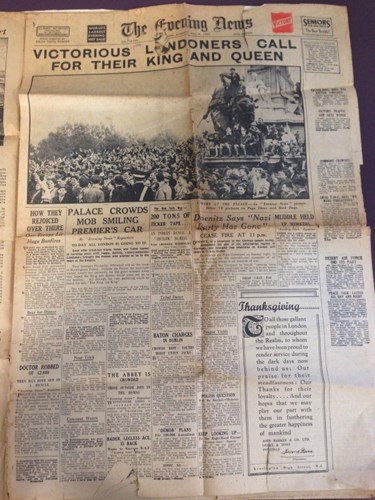 In the midst of the ecstatic celebrations of May 8th 1945 it was surprising and somewhat heartening to see that somebody had found the time to fill out the special VE Day crossword.  Apart from 1 across, 9 down and 31 down, that is.  We've got 31 down, but any ideas on 1 across and 9 down?  No rush, it has waited 72 years to be completed after all.