Townscape Map
19 Ramsgate
This Public house is three storey building. Built with rendered brick with mortar bonding. The slate roof has square chimney stacks at each end. On the right hand side there are three pots to the left hand side there is two pots. There is a single door at the right hand side.
There is a modern extension to the left near the rear which has a sloping roof which could be a staircase to upper floor accommodation. The ground floor has five square windows with semi circular panes above. The first floor has three sash windows  with stone sills.
The second floor has two sash windows with stone sills. There is a metal tie plate in the front wall. To the left the wall is rendered and has extractor fans and other blocked holes. There are two metal tie plates on the gable wall.
Period
19th Century
Listed Status
Not Listed
Within Stockton Town Centre Conservation Area
Yes
Original Building Use
Leisure/Entertainment
( Public House )
Current Building Use
Leisure/Entertainment
Date of Survey
Mon, 28 Sep 2009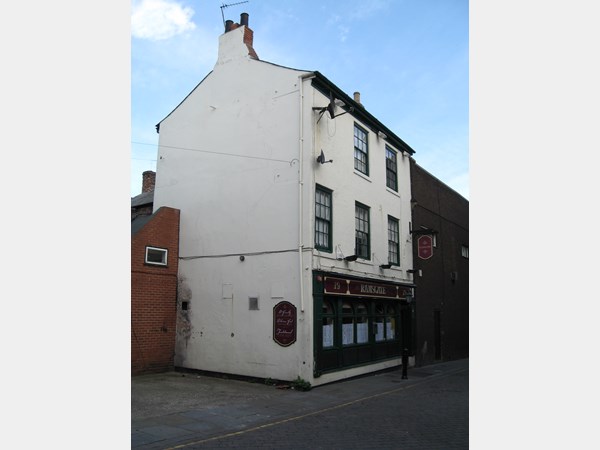 Location
The Ramsgate 19 Ramsgate Stockton-on-Tees TS18 1BS
Street View