Photograph 1 is a recent image of the front of the house with some typical Georgian architectural features numbered and keyed below: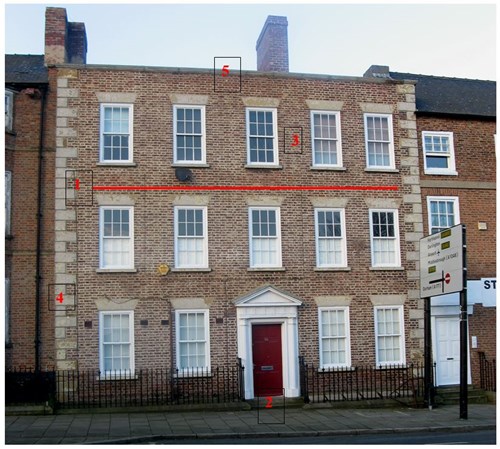 Key to photograph 1
1. Symmetry e.g. balanced positioning and size of windows, doors etc
2. Steps to pedimented and panelled door with classical architrave
3. Flush, sash windows
4. Quoin stones
5. Parapet – a vertical extension of the wall above the roof line, it was required (London) by the Building Act of 1707 and was a measure to prevent the spread of fire.

Diagram 1 shows the location of Paradise Row with number 8 highlighted in red.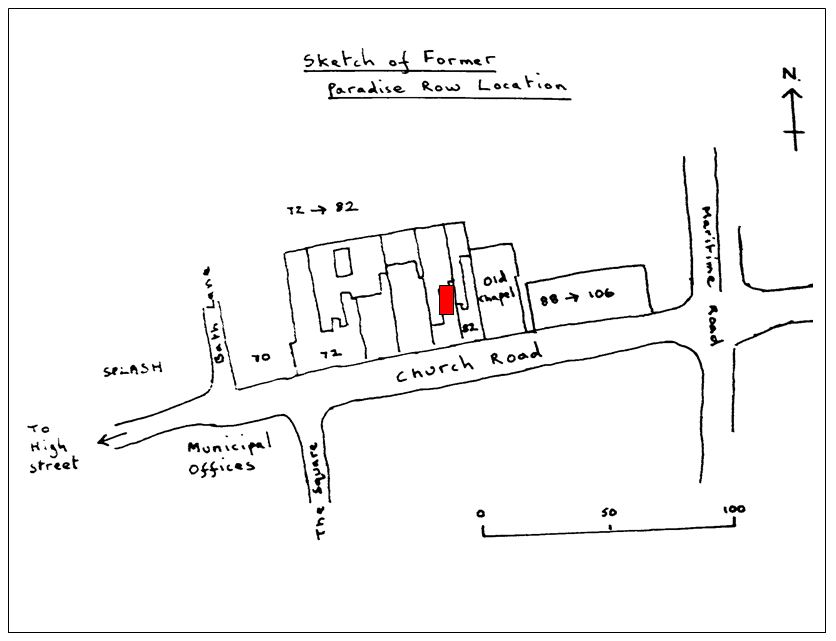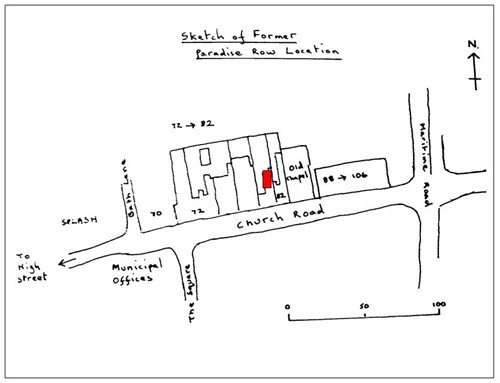 In a "for sale" 6 notice which appeared in the press in 1848 the house was described as being in perfect order and having the advantage of a bath with the means of having hot and cold water. The accommodation included separate Breakfast, Dining, Drawing rooms, a library, 5 principal bedrooms, two kitchens, a cellar together with 2 servant bedrooms, attics, a coach house and a stable.

Photograph 2 shows the rear elevation.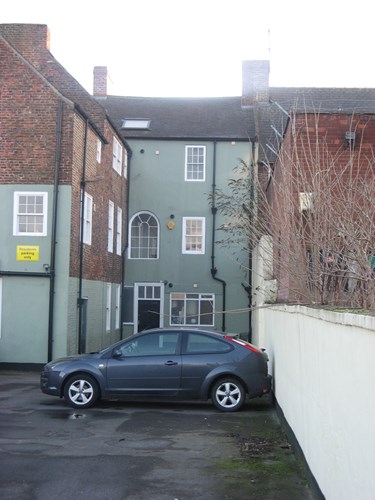 Prior to 1847

The Brown family probably lived at 8, Paradise Row from at least 1759 according to Land Tax records 8. From 1791 the house was occupied by Jane (died 1812) and Mary Welbank, though still owned by George Brown (shipmaster) their brother-in-law. Jane and Mary Welbank, daughters of George Welbank (of Gainford, but died in 1767 at Stockton 2) probably took ownership of the property around 1798. Margaret Welbank their sister had married George Brown 4 in 1758 in Kent. Margaret Brown 2 died in 1776 aged 39 but her husband lived until 1805 (aged 80). George Brown's son, also called George, was born in 1759 at Stockton 2 and although he later lived (Sun Court, Threadneedle St.) and worked in London ( Merchant) and where he died in October,1814, he was buried in Stockton 2 in November 1814. Brewster C wrote kindly about each of these Browns. Margaret Brown was described in touching detail; George Sen. was described as dying the "death of the righteous" while George Jun. is particularly appreciated for a) two charitable legacies (£3,000 and £1000): one which funded new almshouses in the High Street in 1816, the other which supported the work of the Blue Coats School in Stockton; and b) for being "a liberal and assiduous trustee of the school".

On Mary Welbanks's death 2 in 1818, William Bayley purchased the house. He was the second son of William Bachelor Bayley (M.D. and Banker) 4 of Northallerton and was born 17th July 1793 at Northallerton. He married Elizabeth Frances d'Oyly on 27th May 1819 in Northallerton 4. By 1832, when Elizabeth Frances died, the Bayleys had 5 children 2. His son William d'Oyly, a proficient organist, trained as a solicitor. Interestingly, William d'Oyly Bayley 6 married Frances Christopher at Gretna Green in 1844….if William and Frances were of age, then one or more of their parents must have objected. Anyway, in 1846 William and Frances 6 repeated their marriage at Brighton (31st Oct). Not long after his father's death (1847),
William d'Oyly completed the very useful genealogical notes about prominent Stockton families 1.
Throughout his time in Stockton, William Bayley practised as a Solicitor 7, first with Robert Clarke and William Grey (from 1821), then with Clarke, and finally with William Crawford Newby (from 1832).
Bayley and Newby dissolved their partnership 6 in 1846. William Bayley was buried in Norton St. Mary's Churchyard 2 on 11th October, 1847. His estate was worth more than £7,000 or about £500,000 in today's money 5. It should be noted that William Bayley had been a strong supporter of the campaign to abolish slavery and that he was an active local member of the British Association for the Advancement of Science.

As noted in Stockton church, he was 'a friend of the friendless and a father to the orphan'. Not surprisingly, newspaper reports 6 at the time of his death, were very appreciative of William Bayley and some comments are paraphrased below :
A more honourable man in his profession did not exist.
An eminent solicitor… much and deservedly respected by a large circle of friends, relations and acquaintances.
There was a large procession of carriages containing most of the influential gentlemen in the town and the neighbourhood.

Table 1 is a summary of the residents for each census 3 1841 to 1911. Remember that "resident" does not necessarily mean owner.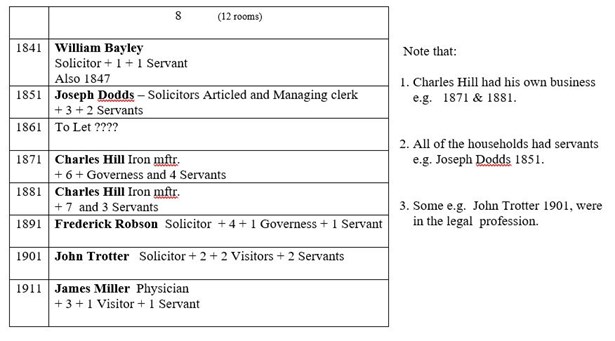 RISE and FALL
The Victorian period saw great change and development, especially economically. Many business and professional people moved to growing towns like Stockton because of the new opportunities there. Joseph Dodds, the son of a joiner, is an example. Dodds was born in Winston (1819), went to school in Winston and later Gainford (1829 -1836), then he trained with Weldon and Bowes( Barnard Castle and Darlington) 11 before moving to Stockton. He married Ann Smith 2 in Stockton in 1847 and the 1851 Census records them at 8, Paradise Row 3. Unfortunately, this article has not the space to describe Joseph Dodds' Stockton story in all its detail. For those interested in the full story, there is plenty of information available, particularly in the hundreds of newspaper reports 6 from the time.
Following his arrival in Stockton in 1841 and into the 1870s, Joseph Dodds enjoyed much success, not only in terms of his Solicitor's practice but also in a wide range of other activities, all of which meant he was well respected, highly regarded and very much appreciated as testified in many newspaper reports about Stockton activities 6. Of the many official posts held by Joseph Dodds at different times and over a long period, e.g. Mayor (1857) and chief clerk to the Tees Conservancy Commissioners, one of the most significant was that as MP for Stockton. In 1868, he was elected as the first Stockton MP, soundly defeating Lord Henry Vane. Four times he was re-elected with comfortable majorities, his final success being in 1886.
But storm clouds had been brewing around Joseph Dodds. The economic climate in the 1880s was difficult and Dodds was not immune from its consequences both in terms of his legal practice and the many other financial matters in which he was involved, e.g. Iron and Steel industry and related engineering. Gradually, his personal financial status must have come under pressure as it did for other family members. Newspaper reports 6 suggest that Dodds' financial difficulties were serious and well known. In December, 1888, supposedly on the grounds of ill-health, Dodds suddenly resigned his parliamentary seat (taking the stewardship of Northstead Manor). Then in a famous court case 6 of Feb.1889 Dodds was accused of embezzlement and fraud of thousands of pounds, indeed more than a £1m.in today's money. Dodds' legal representative had requested a delay in proceedings on the grounds of serious illness, but it was denied and Dodds, in his absence, was found guilty and struck off the Solicitors' Rolls.
Perhaps only Joseph Dodds himself will ever know, why he abused the trust of Mrs. Meynell and a number of others of his clients. Dodds quickly went from being well regarded and respected, to being an outcast and a laughing stock. Shortly after the court case, it soon became clear that Dodds had done a runner and disappeared from Stockton. Again, in his absence, Dodds was declared bankrupt 6 in April 1889 and soon afterwards a warrant was issued for his arrest by Scotland Yard on behalf of the Treasury. Matthew, the son of Joseph Dodds, 6 was also declared bankrupt in 1889. The police failed to trace Joseph Dodds and even the newspapers were unable to locate him, resorting to printing rumours of an escape to Spain and thence to Morocco or other destinations. A further humiliation for Dodds was the auctioning of the contents 6 of his residence, Ragworth (off Darlington Lane), over 6 days at the beginning of June, 1889.
The newspapers recorded his death in December 1891, in some cases very cursorily (Liberal supporters?), but still without identifying a location. Even in a modern article 9 by the Northern Echo (2010) the whereabouts of his death remained unstated. Thanks to the current online availability of records such as burials, it can be revealed that Dodds 10 died in Manhattan, New York, 11th December 1891 and was buried there on 13th December, 1891. A memorial inscription does appear locally, on a headstone in St. Mary's Churchyard, Norton (along with details of other family members). How and when Dodds got to New York, U.S.A. and exactly where he lived whilst there, still await discovery.
An image of Dodds appears in the National Portrait Gallery 12 dating from his time as an M.P. (1868-1888).

REFERENCES
General:
A. Sowler, Tom "A History of the Town and Borough of Stockton-on-Tees, 1972
B. Richmond, Thomas "Local Records of Stockton-upon-Tees and Neighbourhood", 1868
C. Brewster, John "The Parochial History and Antiquities of Stockton upon Tees, 1796"
"The Parochial history and antiquities of Stockton upon Tees, 1829"
D. Heavisides, Henry "The Annals of Stockton-on-Tees with biographical notes", 1865
E. Stockton Library Resources
More specific:

1. Online "GENEALOGICAL ADDITIONS TO THE HISTORY OF STOCKTON UPON TEES"
W.D.Bayley 1848
2. Parish records Stockton Library
3. Census records at www.ancestry.co.uk
4. Parish records at www. findmypast.co.uk
5. National wills at http://www.nationalarchives.gov.uk
6. Online at www. findmypast /newspapers
7. Trade Directories (Durham) at http://specialcollections.le.ac.uk/digital/collection
8. Online at Durham County Record Office
9. Online (posted 2010) at www.thenorthernecho.co.uk
10. Online: familysearch.org.uk
11. UK, Articles of Clerkship, 1756-1874….. The National Archives of the UK (TNA)
12. Online at www.npg.org.uk