This is another article in a series about Paradise Row (Church Road). Diagram 1 shows the current location of this street with what were once numbers 5 and 6 highlighted in red.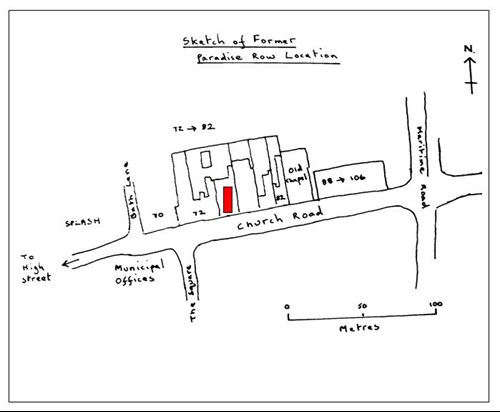 As previously noted 5 and 6 Paradise Row may have been 1 property. The focus of this article is number 6, the right hand side of photograph 1 below. Photograph 1 is a recent image with some architectural annotations. Note the roof line for numbers 5 & 6 is similar in height to 7 on the right, but lower than 4 to the left. This could suggest that numbers 5, 6 and 7 were built earlier than 4 and for and by different people. It is possible that numbers 5, 6 and 7 could be some of Douthwaite's buildings as marked on Pattison's map of 1722 E or that at least they are built on the same site.
Two occupants have been chosen for more detailed research, one being resident in the period before the 1841 Census and one resident for part of the period between 1841 and 1911.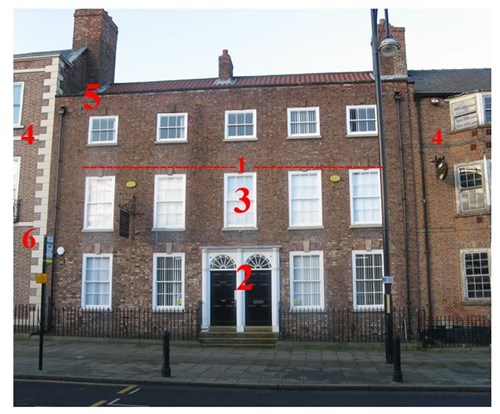 Key to photograph 1
1. Symmetry e.g. balanced positioning and size of windows, doors etc
2. Pedimented and panelled doors often with classical pillars/pilasters and fanlights
3. Sash windows
4. String courses
5. Parapets
6. Quoin stones
Table 1 shows a summary of those resident in 6 Paradise Row for each census 1841 to 1911. Remember that resident does not necessarily mean owner.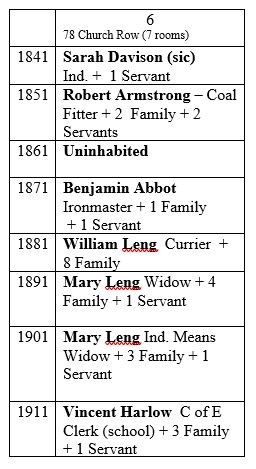 Note that:
1. Some of the residents were of independent means e.g. Sarah Davidson 1841.
2. Some of the heads of households had their own business e.g. William Leng 1881.
4. Most of the households had servants e.g. Robert Armstrong 1851.
TROY but not Helen
Considering the period before the 1841 Census, according to Bayley 1, a Thomas Troy lived in the single property which became 5 + 6 Paradise Row, some time before the ownership of Robert Christopher. So who was this Thomas Troy? A Thomas Troy (unmarried) was buried in Stockton 2, 04th Dec., 1795 aged 70 (?). His baptism was Nov.11th, 1724 in London (St Anne and St Agnes) 3. Thomas Troy was apprenticed to Thomas Raisbeck (Attorney) in 1742 4. We can assume, therefore, he practised law as a profession. His will 5 appointed Leonard Raisbeck as executor. As well as being executor, Leonard Raisbeck was also the main beneficiary. The will confirmed that Leonard Raisbeck owned the property in Paradise Row where Thomas Troy lived.

Thomas Troy's parents were most probably Jonathan* and Elizabeth (Mourthat) who were married in London (St Mary Magdalene, Old Fish St.) on 25th December 1723 6. Elizabeth Troy was buried in Stockton on April 19th, 1737 2. Her will 7 of 23rd Jan., 1724 confirms:
a) she married a Jonathan Troy.
b) she had been married before and had four children who were her beneficiaries.
c) her connection with Stockton.
It is most likely that :
1. Jonathan Troy* married Mary Hill at Stockton Oct. 17, 1737 by licence 2.
2. Jonathan Troy* had a son Jonathan, baptised at Stockton Dec. 15th, 1738 and who sadly was
buried Jan.24th,1739 2.
3. Jonathan Troy's sister Mary married Francis Pocklington of Southwark on 05th June, 1726
4. Jonathan Troy's* wife Mary was buried at Stockton on Feb 21st, 1739 2.
5. Jonathan Troy* was a master in the Painters' Company London. There are several apprenticeships
where he is the master e.g. William Mourthat 1726, John Troy 1729 (probably his nephew) 4.
6. Jonathan Troy* was a son of Jonathan Troy, a yeoman of Bedale. Probably, his baptism was 25th
Nov, 1690 at Gilling 6. His apprenticeship to Henry Raper of the Painters' Company refers to his
own birth in Yorkshire as well as listing his father as Jonathan Troy 4. Jonathan Troy, yeoman of
Bedale may well be the Jonathan Troy who took the Oath of Allegiance in 1689 at Stokesley. He
may also be the Jonathan Troy who died in London March 14th,1733 (St. Martin Ludgate) 3.
Meanwhile, Jonathan Troy* was Mayor of Stockton in 1739, 1740 and 1750. He made his will 5 in 1752, naming his son Thomas as his only executor. The will refers to several family members confirming family links to London e.g. his sister Mary Pocklington and a cousin Thomas. Jonathan Troy* died in 1757 and was buried in Stockton 2. A monumental inscription paying tribute to Thomas and which also mentions his father*, appears in Stockton Parish Church. The monumental inscription was commissioned by his adopted children, Thomas, Mary Ann and Harriet Moat who were legatees in his will.
Although, Thomas died without issue in 1795, his father Jonathan* and grandfather Jonathan both had siblings so it may be possible to trace other Troys with a Stockton connection. For those interested, it appears that some of the family were involved with farming and brewing but this article does not go into those details.
Regarding the origin of the surname Troy, it is widely considered to be from France. It may be that the first Troys came to Britain as supporters of William the Conqueror, though some migrants may be much later and rather than coming directly from France, arrived via other parts of Europe including Ireland.

Leng for leather
Like the Troy family, the Leng family also moved to Stockton, but this time in the nineteenth century. Analysis of Census8 and other records shows that:
1. William Leng , the son of Thomas, was born in Wilton (near Guisborough) in 1813 .
2. In 1841 William, a currier (a person who curries or dresses tanned leather), boarded with Jane Atkinson in Albion St. Stockton (this links Skinner, Brunswick and William streets).
3. On the 14th October 1847, William married Mary Boyes, daughter of Stephenson Boyes, in Guisbrough 6.
4. In 1851 William lived in the newly built Stamp Street with his wife Mary and his daughter, Margaret Elizabeth. According to Slater's directory of 1855 9 the Lengs were in Smithfield, before moving
to Cleveland Row in 1858 9 ( Post Office Directory).
5. By 1861, William and Mary had 5 children and lived at 3 Cleveland Row. In addition, his mother-in –law, 2 servants and one apprentice were also resident. The Lengs appeared to be doing well.
It is well documented that Victorian times were difficult for ordinary working families and the high infant mortality rates of the time are one way of confirming this. However, those in business also had their problems. This particularly applied to the small business especially those based on a trade, where working capital was difficult to acquire and maintain. The Lengs were no exception. In 1864 the Lengs ran into financial difficulties. On August 05th 1864, William like so many others, appeared in the press 10 as a bankrupt. It is unclear if this was due to William's own failings or, as in numerous examples, it was collateral damage from suppliers and/or customers. The latter is more likely, as he was soon classed as discharged on Tuesday Oct 04th by the Commissioner at Newcastle 10 .
In 1871 the Census continues to list William Leng (and his eldest son ) as a currier. William and Mary have 3 further children, but no servants and now live at 26 Portrack Lane possibly showing the impact of the earlier bankruptcy. Matters soon improved. In 1881, William and his family (wife and 7 children) were now living in 6, Paradise Row. The eldest son Stephen, as a master currier, was running the business with the help of his brother, William (salesman).
On the 08th February 1885 William Leng senior died. Two gravestones (see photographs 2 and 3) in Oxbridge Cemetery commemorate him, his wife and 6 children plus a daughter-in-law. The family's
links with the leather trade in Stockton continued through William's sons, Stephenson Boyes, William and Thomas. Trade directories 9 of 1890 and 1914 list S.B. Leng and Co., first as Curriers(Cleveland Row), then as Boot factors (21 Bishopton Lane). In the1939 Register 11, William N. (Thornlea, Bishopton Rd.) and Ernest (44, Westbourne Rd), sons of William junior, appear as wholesale Leather merchants and Boot factors. Stephenson Boyes Leng died in the March Quarter of 1930 (Stokesley Reg. District) having married Ellen Henderson in 1889, September Quarter in Newcastle upon Tyne Reg. District.
The Lengs, of course, may not have been alone in the leather trade in Stockton and, for those interested, curriers, leather workers, boot factors etc may be a fascinating line of research. For example, it is worth noting that a hide and skin market is recorded by the O.S. 12 between 1918 and 1951 on a site between Bishopton Lane and Laing Street! (now Bishopton House inc. Argos). This and adjacent properties had a range of industrial activities in the Victorian period.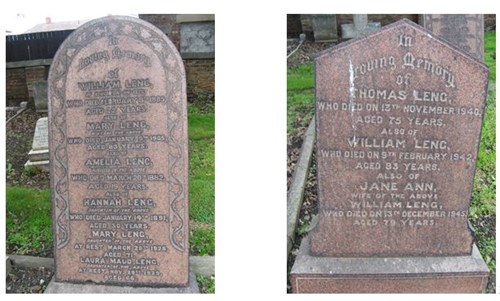 REFERENCES
General :
A. Sowler, Tom "A History of the Town and Borough of Stockton-on-Tees 1972
B. Richmond, Thomas "Local Records of Stockton-upon-Tees and Neighbourhood" 1868
C. Brewster, John "The Parochial History and Antiquities of Stockton upon Tees, 1796"
"The Parochial history and antiquities of Stockton upon Tees 1829"
D. Heavisides, Henry "The Annals of Stockton-on-Tees with biographical notes" 1865
E. Stockton Library Maps

More specific :
1. Online "GENEALOGICAL ADDITIONS TO THE HISTORY OF STOCKTON UPON TEES"
W.D.Bayley 1848
2. Parish records Stockton Library
3. Parish records at www.ancestry.co.uk
4. Apprenticeship records at www. findmypast.co.uk
5. Durham wills at http://familyrecords.dur.ac.uk/nei/data/advanced.php
6. Parish records at www. findmypast.co.uk
7. National wills at http://www.nationalarchives.gov.uk
8. See www. ancestry.co.uk
9. Trade Directories ( Durham) at http://specialcollections.le.ac.uk/digital/collection
10. Online at www. findmypast /newspapers
11. 1939 Register at www. findmypast.co.uk
12. Old maps at https://www.old-maps.co.uk
* = Jonathan Troy 1690 - 1757