Photograph 1 (2017) below, shows what was once 2 Paradise Row.  Originally an individual property, it is now part of the current Gloucester House as is shown on Diagram 1 marked in red (72 Church Road).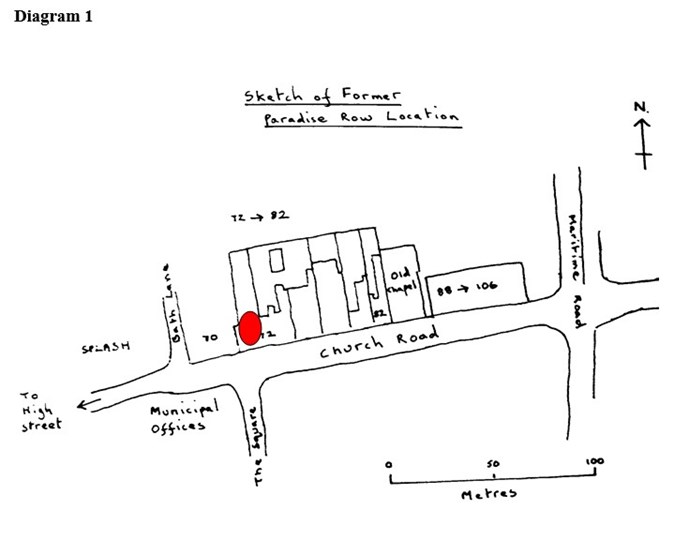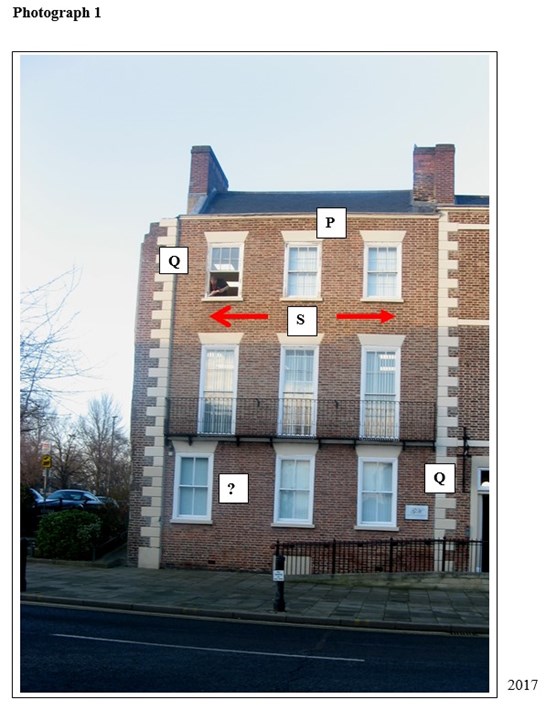 At this point, readers may find it helpful to look at the first part in this series about Paradise Row (called "Heavenly Address 1"). This gives the background to Paradise Row.
Some typical Georgian architectural features are shown on Photograph 1 e.g. Q the quoin stones, P the parapet and S the symmetrical window positions (1st and 2nd floor)… the odd window position on the ground floor (? on left) may relate to the removal of a door.
So who lived in this handsome property? Census records for 1841 to 1911 give considerable details about the then residents of 2, Paradise Row (See table 1 below). However, it is much more difficult to identify residents before the 1841 Census and especially any from the 18th century.
John Russell Rowntree Esq. is described by Bayley 1 as "long a solicitor, and afterwards a conveyancing barrister of eminence at Stockton". Bayley says Rowntree owned and resided in No. 2, Paradise Row, and married Miss Loraine. Teesside Archives hold a number of records relating to the work of Rowntree as a conveyancing solicitor. Rowntree, a wealthy man, died without issue in 1831, leaving his property to his only unmarried sister Elizabeth. A copy of his will is available at the National Archives, Kew 2….
John Russell Rowntree was baptised 07th May, 1761 at Elton. He was the only son of the Rev. John Rowntree and his wife Mary Russell. John Russell Rowntree married Margaret Loraine 20th September, 1787. They had no children. He died in 1831 and was buried at Elton 09th September, 1831.
Mary Russell was the daughter of William Russell (1691-1756) Rector at Elton (from1716).

John Rowntree succeeded his father-in-law as Rector at Elton on 27th July, 1758. John Rowntree (aged 77) was buried at Elton 07th May, 1804 and was succeeded by Thomas Ewbanke. It is unclear, how, if at all, John Rowntree was connected to other Rowntrees in Stockton and noted by Bayley.

An 1827 Directory of Trades shows: Rowntree J. R. Esq, barrister, Paradise Row and Rowntree Miss Elizabeth, High Street Stockton. Around the time John Russell Rowntree lived in Paradise Row, he also briefly had possession of the manor of Aislaby which was later (1830) sold to John Scott, Earl of Eldon.
(Scott famously married Bessie Surtees and later became Lord Chancellor!)
John Russell Rowntree's death was noted in the Obituaries of The Gentleman's Magazine, Volume 101, Part 2; Volume 150 in 1831. Predeceased by his wife and having no children, John Russell Rowntree left his estate to his only unmarried sister, Elizabeth Rowntree. In due course, in 1843, Elizabeth Rowntree left her estate to her great nephew Thomas Swinburne. Apparently, John Russell Rowntree had built up an extensive Library. A copy of the catalogue of this Library (1843) has been posted online 3 (2017) by lewiswalpolelibrary.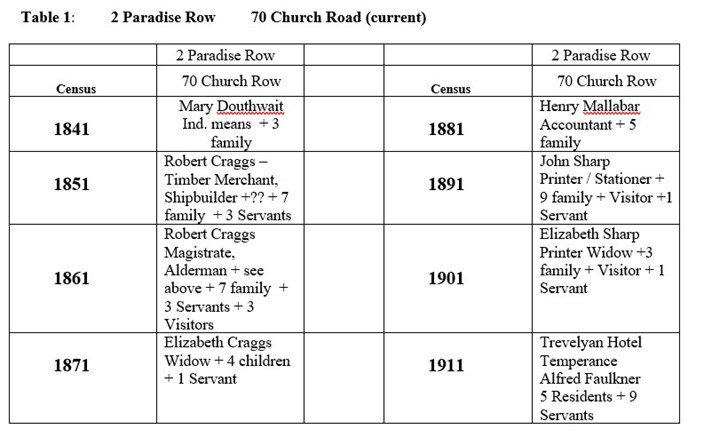 Remember that resident does not necessarily mean owner.   Analysis of table 1 reminds us that:
Some of the heads of the households had professional jobs reflecting a good education e.g. accountants such as Henry Mallabar 1881.
Some of the heads of households had their own business e.g. Robert Craggs 1851 & 1861.
Some heads of household were classed as of independent means e.g. Mary Douthwait 1841.
Often, households had servants e.g. Robert Craggs 1851 & 1861.
Some families had moved to live in Stockton e.g. Henry Mallabar.
 Craggs a business man
 Robert Craggs was baptised 27th January, 1799 at Marton-in-Cleveland.  His parents were probably George and Ann.  George Craggs and Ann Atkinson had been married at West Acklam in 1789 . Four children were baptised at West Acklam and four at Marton.  At some point in the early part of the 19th century, like many others, Robert or his father, moved to Stockton to improve his chances of success in life. Robert Craggs married Elizabeth Foxton at Thirsk in 1829. The 1841 Census shows Robert (as a Merchant), with his wife Elizabeth and 4 children in Skinner St. Stockton.  A newspaper report 4 of February 1842 records the re-appointment of Robert Craggs as the manager of the Union Shipping Company. The 1851 Census shows the Craggs' family at 2 Paradise Row with the addition of 3 more children and lists Robert as a Timber Merchant, Shipbuilder and Ship owner. Sowler lists Craggs as Mayor of Stockton in 1854 5.
In the 1861 census, Robert Craggs is listed as Magistrate, Alderman, Timber Merchant and Ship Builder still living in 2, Paradise Row. At this point, his four sons are all involved in the business. Sadly, Robert Craggs death is registered early in 1871 as the Census for that year confirms….Elizabeth is listed as a widow.  For a while, family members continued to live in Stockton e.g. George Craggs (born1833 and Robert's second son) is listed as a Timber Merchant on the 1881 Census living at Beverley House now the site of Aldi off Yarm Lane.                                                                                                           
Heroic Henry Mallabar
William Mallabar (aged 28), a journeyman joiner, lived at 10 Middle Street, Stockton according to the 1851 Census.  He was born in Wolviston.  His wife Elizabeth was born in Newport (Yorkshire). Two children, Henry (aged 2, born 15th February, 1849) and Elizabeth, were born in Stockton. In 1861 the family (now 6 children) lived at 13 Elysian Place off Norton Road.  In 1871 the family (now 10 children, all born in Stockton) lived at 57 Thorpe St. William is described as a House Carpenter ( also William jun. and Alfred James) while Henry Neats Malabar(sic) is a Commercial Traveller. So nothing very unusual, it seems.
On June 15th, 1904, The 'General Slocum' 6, a paddle steamer caught fire and sank in the East River, New York and more than 1000 of the 1,342 passengers lost their lives 7. Working at an isolation hospital nearby, on North Brother Island, New York, Henry Mallabar (aged 55) bravely gave assistance.  Several times he swam from the shore out to the scene of the disaster to rescue passengers… one report suggests 3 women and 5 children….until he collapsed, having suffered a burst blood vessel in his brain from the effects of his physical exertions.  Until the Twin Towers tragedy of September 11th 2001, this was the biggest loss of life recorded in an incident in the New York area. It is the worst maritime disaster in New York history and the second worst maritime disaster on U.S. waterways. The 'General Slocum' disaster has been described in books, plays, films, newspapers and numerous webpages. 
Henry Mallabar never fully recovered from his rescue efforts, even though in 1905, he was listed on the US Census for New York, Bronx as a Hospital Clerk (he had been a US resident for 12 years). He suffered a number of further strokes, with a fatal occurrence on 04th December 1907.  An urn containing his ashes was suitably inscribed (see the headstone placed in Oxbridge cemetery (photograph 2). A report of his death (with a reminder of his earlier heroic exploits in the 'General Slocum' disaster) was widely syndicated in the American and Canadian press at the time 8.
There is a lot of information available about the Mallabar family but it is beyond the scope of this article where 2 Paradise Row is the focus. Descendants and those interested may wish to investigate further.
Clearly, at some point after 1871, Henry had gone to the USA/Canada, probably as an economic migrant and possibly with other family members.  He married Euphrosyne Guillaume (French Canadian?), date and place uncertain) and in 1874 their daughter Emma/Emily/Emilie was born (Albany, New York state).  In 1875, Henry and family came to England and his son's baptism took place on 2nd November, 1875 at Holy Trinity, Stockton.  A second daughter was baptised, but sadly died aged three in 1880. Henry did not stay long in 2, Paradise Row, which he had probably rented. Between 1884 and 1892 the Manchester Rate Books 9show he was at 26, Bickley St., Moss Side.  In 1891, the Census for Bickley St, lists him as a Representative of Billiard Table Builders and living with only his son, William Louis and his sister in law, Cordelia (now a British Subject). Meanwhile, his wife and daughter Emma (Emilie) were at Hill Cottage, Dwygyfylchi, Carnarvon, North Wales (1891 Census).
In 1898 his son William Louis (a journalist) had been married at Boston, Massachusetts while his daughter Emilie Julie having married Louis Bartholomew Pouliot was also living in New York.  Henry's wife, Euprohsyne was living with her daughter.
Why Henry and his wife separated is not known, beyond obvious speculation, but various records suggest they remained apart, despite both returning to the USA. Euphrosyne continued to use the name Mallabar, long after Henry's death. Mallabar appears on her death record of 15th April, 1933 in Mobile, Alabama 10.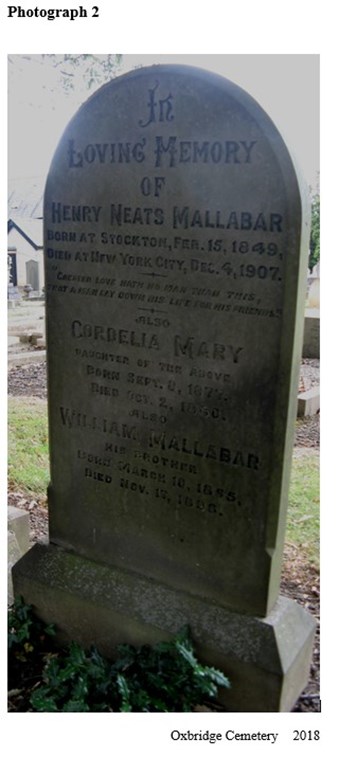 REFERENCES
General: 
Sowler, Tom "A History of the Town and Borough of Stockton-on-Tees 1972 
Richmond, Thomas        "Local Records of Stockton-upon-Tees and Neighbourhood 1868 
Brewster, John              "The Parochial History and Antiquities of Stockton upon Tees, 1796"                        
                                                "The Parochial history and antiquities of Stockton upon Tees 1829" 
Heavisides, Henry "The Annals of Stockton-on-Tees with biographical notes" 1865 
Parish records Stockton Library. 
Online at www.ancestry.co.uk and other sources e.g. family search.org 
Online at www. findmypast /newspapers 
Various Trade Directories
 More specific:
 Online "GENEALOGICAL ADDITIONS TO THE HISTORY OF STOCKTON UPON TEES" W.D.Bayley 1848 
PROB 11/1793/296 Will of John Russell Rowntree of Stockton, Durham 06th December, 1831 
Catalogue of the library collected by the late J.R. Rowntree, Esq by lewiswalpolelibrary, posted on June 19, 2017  dated 1843 
See G above 
See A above 
& 7. Online at Wikipedia.org 
Online at www.newspapers.com 
Online at www.findmypast.co.uk 
Online at www.familysearch.org