PHOTOGRAPH 1 is a recent image of the front of the house with some typical architectural features numbered and keyed below: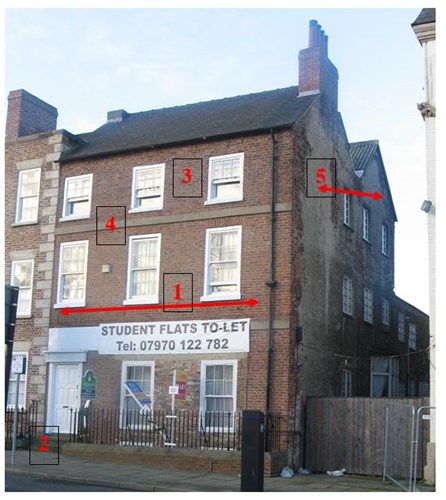 Key to photograph 1
1. Symmetry e.g. balanced positioning and size of windows, doors etc
2. Steps to pedimented and panelled door with classical architrave
3. Flush, sash windows
4. String courses
5. Double pile/room/range with double roof structure

Diagram 1 below shows the location of Paradise Row with number 9 highlighted in red.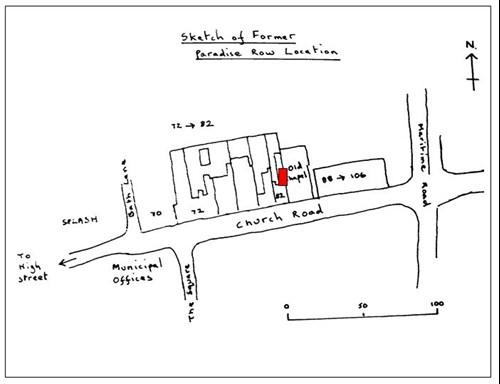 Who has lived in this house? As with the other articles in this series, two overlapping periods are the focus of attention.
Pre 1841 Census
Cross checking of Durham Land Tax 9 records (1759-1826), various Parish and other online records e.g. newspapers, shows:
1. Lancelot/Lawrence/Laurence Jobson/Jopson owned property (house and granary) in the Paradise Row
area in 1759.
2. Bayley 1 suggests that number 9 was owned by Jopson.
3. Jopson (a merchant) was buried at Stockton 2 on January 14th, 1783.
4. Jopson's wife, Esther is shown as the property owner from 1783 to her death in 1797. Esther Peare had married Jopson in 1742 at Holy Trinity, Hull 4.
5. Land Tax 9records show Benjamin Evans at number 9 from 1798 until 1826 (styled Rev. from 1812).

6. Mary (Polly) Marshall married the Rev. Benjamin Evans by Licence, July 18th 1786 at Stockton 2. He was born near Llandyssul in Wales and trained at Carmarthen Presbyterian College 11. He served as a Unitarian minister in Stockton from 1821 to his death. The Unitarian chapel was in the High Street opposite the
parish church 11.
7. Shortly after his wife's death, Benjamin Evans died 9 March, 1834 (aged 89 and without issue). The house then passed to his wife's niece, whose husband (Fisher) sold it to Thomas Ewbank 1.
8. Thomas Ewbank (born 1762) had married Frances Shillito in1814 at York 4 about 10 years after he had become Rector at Elton. Sadly their only daughter, Margaretta (born 1816) died in 1833. Thomas Ewbank 2 himself died in 1840. The 1841 Census 3 records Frances Ewbank as of independent means and living at number 9 Paradise Row. Frances Ewbank died in 1850 5.
Post 1841 census 3
Table 1 below, is a summary of the residents for each census 1841 to 1911. Note that "resident" does not necessarily mean owner.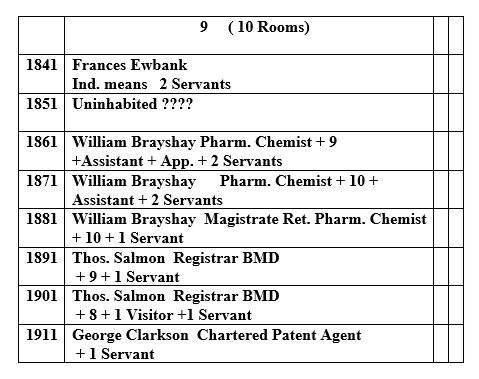 Note that:
1. William Brayshay had his own business e.g. 1861.
2. Most of the households had servants e.g. Frances Ewbank 1841.
3. Thos. Salmon was a public servant.
4. George Clarkson had a professional qualification
5. The number of rooms is as defined on the 1911 Census : 'Count the kitchen as a room but do not count scullery, landing, lobby, closet, bathroom; nor warehouse, office, shop' 3.

Chemist and Druggist 8
In 1840, an apprenticeship (with no examinations to pass) in a pharmacy could enable someone to use the title of "chemist and druggist". Living conditions for many people were poor and even the 'better-off' fell victim to a range of health problems. Until the mid-nineteenth century natural pharmaceuticals were all that were available to relieve pain and suffering. The first synthetic drug (1832), chloral hydrate, was made available in 1869 as a sedative-hypnotic. Not until the C20 did large scale use of synthetic drugs occur. Chemist and Druggists were used a lot and there were increasing concerns about the standard and effectiveness of medicinal products and their suppliers. On 15 April 1841, a meeting of "the members of the trade" was held at the Crown and Anchor Tavern on the Strand, London. It was proposed that for the purpose of protecting the permanent interests, and increasing the respectability of chemists and druggists, an association be now formed under the title of 'The Pharmaceutical Society of Great Britain'. The proposal was carried. Soon a Pharmaceutical Journal was also started and quickly became a valued publication, like the "The Lancet", which had been first published in 1823. William Bolam Brayshay 8 is listed in the 1843 Pharmaceutical Journal.
Important pieces of legislation followed 8. "The Arsenic Act of 1851" highlighted the need for a legal definition of a chemist and druggist so the supply of arsenic could be controlled .The "1852 Pharmacy Act", established a register of pharmaceutical chemists for those who had passed the Society's exams. (though unexamined and unregistered people could still practise as pharmacists) 8. The 1868 Pharmacy Act stated that all pharmacists had to be examined and registered by the Pharmaceutical Society in order to sell, dispense and compound poisons and dangerous drugs. There were two levels: a minor exam. to become a chemist or druggist; or a major exam. to become a pharmaceutical chemist 8. By 1872, all pharmaceutical chemists were required to become members of the Society and, in 1898, by way of the Pharmacy Amendments Act, chemists and druggists could also become members 8.
The 1841 Census 3 shows William and Ann Brayshay living in Stockton High St. with William described as a chemist. In 1851, William and Ann Brayshay with 4 children, 2 apprentices and 2 servants lived at 36 High St. where he was a Chemist, Druggist and Grocer 3. His business must have been successful, as by 1861 he and his family were able to move to live in 9, Paradise Row while retaining a high street business address…. the 1861 Census 3 records Brayshay (Chemist, Druggist and Grocer), his wife, 8 children, 2 boarders and 2 servants. Brayshay continued his business with his eldest son actively involved, though his second son William became a solicitor. The family continued to live in Paradise Row until after the 1881 Census 3. Interestingly, the 1871 Census 3 records William and his son Thomas as Pharmaceutical Chemists so it is assumed they had successfully taken the major exam. and were registered members of the Pharmaceutical Society. Eventually, in 1878 his business partnership 6 with his son Thomas was dissolved….the 1881 Census 3 records William Bolam Brayshay as retired.
Like many other incomers to Stockton, William Bolam Brayshay took an active part in the community 6….he was a councillor and served as Mayor in 1868. In 1870 he became a member of the School Board and he became a magistrate in 1874. He died at Redcar in 1885 (aged 71) following a period of ill health (stroke related). Newspaper reports 6 described him as much respected by all classes and praised him for his benevolence, charitable work and philanthropic character. William Bolam Brayshay was a staunch Wesleyan and supporter of the Liberal Party. His son, Thomas Brayshay, continued the pharmaceutical business well into the C20 at 38, High Street (an 1858 trade directory 10 had listed William Brayshay at this address), though Thomas changed his residential address several times. Thomas Brayshay died in 1920 (Sept. Quarter) 5. The Brayshay's 38 High St. premises lay between what is now Costa Coffee (39 High St.) and Stockton Enterprise Arcade (previously, Grantham's, Blackett's and Carter's).
For those interested, the Brayshay family can probably be traced to the 17th ct. living at Kirkby Malham, Yorkshire 7. William Bolam Brayshay was born in Bishopwearmouth, his father Thomas (excise official and married twice) lived variously in Yorkshire, Northumberland and Durham. William's grandfather Paul also an excise official (Hull) was married (1782) in Rotherham to Isabella Bolam. William married Ann Clark in 1838 at Durham and probably moved to Stockton soon after.
As a growing town, Stockton provided great opportunities for those of an entrepreneurial spirit and William Bolam Brayshay is a good example. The town, of course, also benefitted greatly from the success of such people.
REFERENCES
General:
A. Sowler, Tom "A History of the Town and Borough of Stockton-on-Tees, 1972
B. Richmond, Thomas "Local Records of Stockton-upon-Tees and Neighbourhood", 1868
C. Brewster, John "The Parochial History and Antiquities of Stockton upon Tees, 1796"
"The Parochial history and antiquities of Stockton upon Tees, 1829"
D. Heavisides, Henry "The Annals of Stockton-on-Tees with biographical notes", 1865
E. Stockton Library Maps

More specific:

1. Online "GENEALOGICAL ADDITIONS TO THE HISTORY OF STOCKTON UPON TEES"
W.D.Bayley 1848
2. Parish records Stockton Library
3. Census records at www.ancestry.co.uk
4. Parish records at www. findmypast.co.uk
5. Online at freebmd.org.uk

6. Online at www.findmypast /newspapers
7. Online: familysearch.org.uk
8. Online at various websites especially www.rpharms.com and www.pharmaceutical-journal.com
9. Online at Durham County Record Office
10. Online Trade Directories e.g. http://specialcollections.le.ac.uk
11. Online at Picture Stockton