Photograph 1 below shows 4, Paradise Row.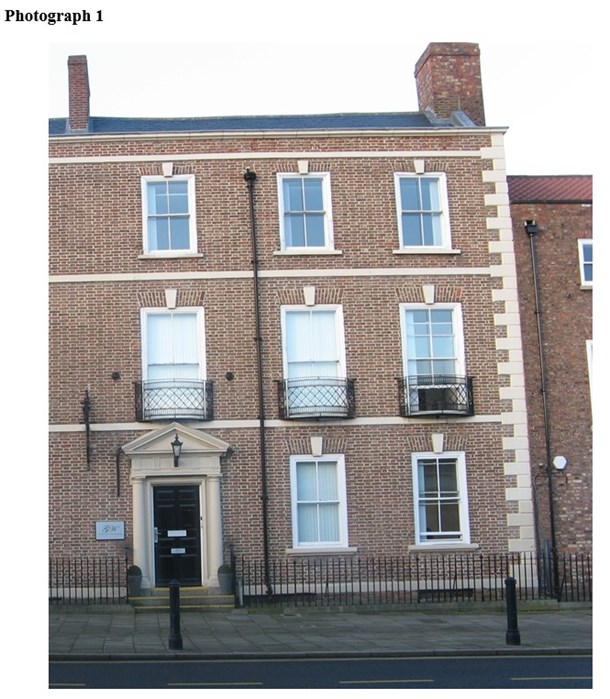 Currently, like numbers 2 and 3, this property forms part of Gloucester House (72 Church Road). However, it seems likely that only 3 and 4 were built as one property while number 2 is of a different build. Diagram 1 below, gives a reminder of the location of this house. Like much of Paradise Row, number 4 (marked in red) shows some typical Georgian architectural features.  In particular, the recent refurbishment of this property emphasises the Georgian style entrance, the quoin stones and the Flemish Bond brickwork.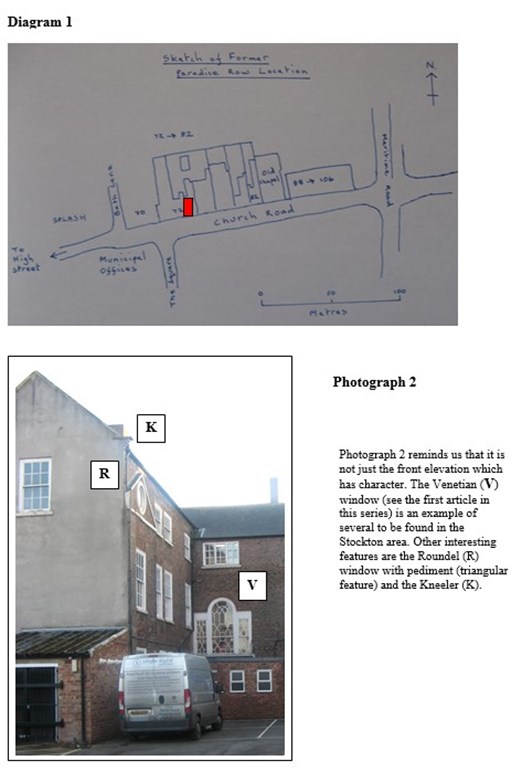 So who has lived in this house? For the period before 1841 it is difficult to be certain who lived here and when, without detailed research into deeds etc. Bayley 1 suggests that Leonard Robinson (1747 – 1788) occupied 3 and 4 together as one house. Maybe his father, Leonard (1709 -1778) also lived here. After the Robinsons, Bayley states that William Grey lived in the house, then Davidson who owned the property and divided it into two. Leonard Robinson (Senior) is described as a merchant or corn factor. How Leonard Robinson acted as factor or merchant is difficult to know. However, he was operating in a difficult period regarding trading in corn (shortages and food riots were not uncommon) so his relative success in life suggests he must have been a skilled operator. For those with an interest, Brewster 2 has a fascinating account of problems in Stockton in 1740 based upon accounts written by William Barker, another corn merchant.
Leonard (Senior) married Ann Barker 13th July 1732 in Stockton and within 15 years they had 8 children of whom 5 survived to adulthood. Their second daughter, Sarah (1740-1813) married John Stapylton Raisbeck who became Mayor of Stockton 3 times. Her younger sister Frances (1752-1818) married the Rev. John Brewster in 1796. Brewster described Leonard Robinson as an eminent merchant. Leonard Robinson was born around 1709. Leonard's father William lived at Gill Hall 3 near Hornby (near Catterick) and he was also a corn merchant while his mother Mary Cottingham came from nearby Tunstall. Leonard sen. died in Stockton in 1777.
Leonard Robinson jun. was baptised 07th May 1747. He married Priscilla Consett of Brawith Hall on 15th March 1770 at Leake Church. The Consett family had acquired Brawith Hall around the middle of the 18th century and the family remain the owners. Priscilla by the time of her early death aged 39 in 1786 had lost 4 children including two Leonards, but, 4 daughters did survive.  Elizabeth and Priscilla both married bankers, respectively Robert Wilkinson and Frederick Lumley. Mary married her cousin Leonard Raisbeck and Ann married Bartholomew Rudd (1792). Wilkinson and Raisbeck both became Mayors of Stockton. Leonard jun. died in 1788 aged 41. It took several years to settle his estate, indeed in 1793 and 1795 court actions were taken by his daughters to speed the process, particularly by Ann, whose husband, Bartholomew Rudd was a Barrister. Bartholomew Rudd 4 bought Marton Estate in 1786 and built a lodge, which was later rebuilt as Marton Hall by Henry Bolckow (1853) following a fire in 1832.
Leonard Robinson's estate was significant. He possessed large sums and securities, having also carried on a large business in lead mining. He had lands in Stockton, Raunton, Skeeby, Easby, Brompton, Kettlewell and North Otterington in trust of the Rev. John Preston, of Askam. Details of his will and the subsequent court proceedings are unfortunately beyond the scope of this article.  The Robinson's are an example of the importance of migration to the economic development of Stockton before the growth related to the Industrial Revolution.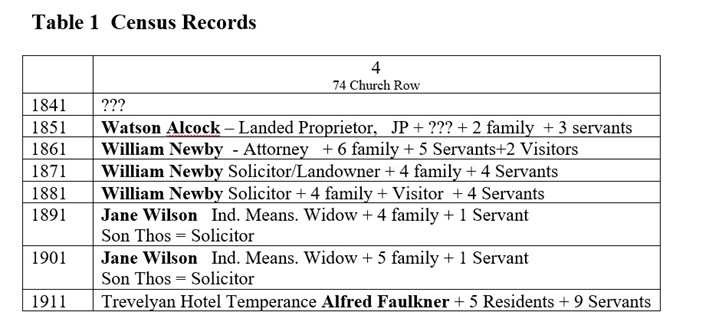 Quite a lot has been written about the surgeon Watson Alcock and his medical contribution to Stockton. John Rowlands (@1972) 9 and more recently, Jean Machel (2015) 10 have produced expert and very interesting accounts. Therefore, I will only briefly consider Watson Alcock and my focus will be on other aspects of his story.
Watson Alcock (M.R.C.S.) resided in 4 Paradise Row during the last years of his life. In early August 1855 newspaper reports recorded his death.  Calculations based on the 1851 census suggest he was born in 1771 at Coverham, near Middleham. Details about his early life are difficult to find. It seems likely that the Reverend John Alcock and Margaret Watson were his parents.  They were married by licence at Coverham, 24th March 1761. John Alcock had graduated from Jesus College Cambridge in 1752 and shortly after had become Rector at Burnsall, West Riding.  Burnsall parish records give more details about the Alcock family for anyone wishing to research further. Such investigation is beyond the scope of this article. Watson Alcock had 2 brothers and at least 1 sister. His father died in 1810 and his mother a year later.  At the time of her death, Watson Alcock's mother lived at Tupgill, near Coverham, now part of Tupgill Park, the location of the "Forbidden Corner" tourist attraction.
Watson Alcock probably came to Stockton soon after he qualified as a surgeon (1793). Presumably, the Royal College of Surgeons has details about his medical training and qualifications. Thomas Richmond 5 records that Alcock promoted inoculation with cow-pox around 1800....and that he offered to do this free. It is worth noting that as well as practising medicine Alcock also gave his time to train apprentices. One famous apprentice was, of course, John Walker about whom readers can easily read a lot of fascinating information elsewhere.
By 1807 (and in1808), Alcock had made a sufficient mark to be elected mayor of Stockton. In that period important measures were under discussion such as the Cut (navigation improvement) in the river Tees (8th December 1807 meeting). As well as serving the general population, Alcock on more than one occasion treated members of the Londonderry family e.g. March 1839 (Marchioness) and November 1842 (Marquess) 6. He had also been appointed the surgeon of the troop of Cavalry volunteers set up in 1819.
His own marriage record for 6th August, 1822 at Reighton, near Filey in the East Riding of Yorkshire to Mary Smith is interesting. The location is one issue but two others are:
a) Alcock's actual age at the time was 50 plus, but the licence gives it as 40
b) The licence gives Mary Smith (24) as a spinster, but Alcock is described only as a surgeon with no comment about his status e.g. bachelor or widower.
In June 1823, his daughter Mary Ann's birth notice appears in the newspapers, but she did not live long as her death notice appeared in the newspapers of May 1827 aged 3 plus. Even more sadly, a second Mary Ann Alcock died on Christmas Day 1828 having been christened on 3rd April 1828 at St. Thomas' Church. Tragically, Mary Alcock herself died in April 1829. 
In 1827 Watson Alcock was joined by the newly qualified Dr. Charles Trotter and their practice continued to give valuable service in Stockton for many years. For those interested, as already noted, Rowlands and Machell, have covered this in some detail. Their practice operated from Alcock's house on a corner of the High Street and Ramsgate until Alcock retired. Alcock already had another property. In December 1835 newspaper reports advertised the sale of a property on the east side of the square (near the present council offices) as belonging to Watson Alcock. Shortly after this he moved to a property on Church Row (near the present Splash Leisure Centre) where the 1841 Census records his residence there. Exactly when he later moved to Paradise Row is uncertain.
On 22nd February 1838 Alcock was nominated as a Borough Magistrate. In December 1842 at the suggestion of the Marquess of Londonderry (then Lord Lieutenant for Durham) Alcock became a Magistrate for the County 7. Two daughters, Frances Margaret (26) and Henrietta (24) appear with him in Paradise Row on the subsequent 1851 Census. 
Slater's trade directory of 1854/55 records his address as 4, Paradise Row and lists him in the section on Gentry & Clergy.
In 1855 August newspaper reports announced his death and typically referred to him as an eminent medical practitioner and much respected. Throughout his life in Stockton, Alcock, had wide interests beyond his medical expertise.  He supported not only many developments which he felt would benefit the town and its inhabitants such as promoting the consideration of the railway, but also matters of personal interest e.g. in 1837 he supported the move to set up a church (C of E) in Middlesbrough and in 1845 he gave financial support to the Durham Diocesan training school.
Alcock is buried at Coverham along with his wife and two infant daughters.
After Alcock's death Rowlands notes that "His medical library was presented to the Stockton Dispensary by his daughters, but its present existence is not known." Below is an illustration courtesy of the Wellcome Trust 8.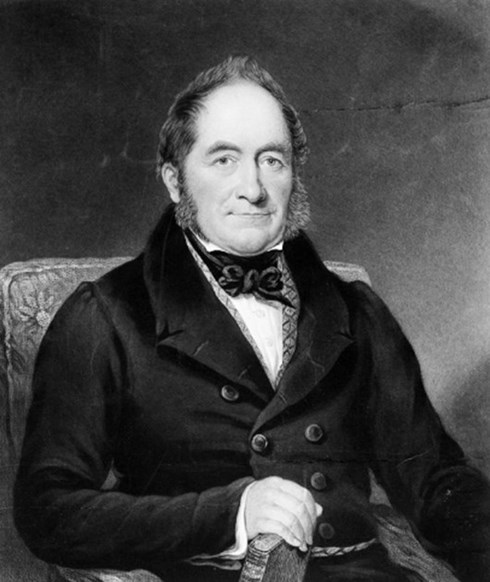 REFERENCES
General:
Sowler, Tom "A History of the Town and Borough of Stockton-on-Tees 1972
Richmond, Thomas      "Local Records of Stockton-upon-Tees and Neighbourhood" 1868
Brewster, John              "The Parochial History and Antiquities of Stockton upon Tees, 1796" / "The Parochial history and antiquities of Stockton upon Tees 1829"
Heavisides, Henry "The Annals of Stockton-on-Tees with biographical notes" 1865
Parish records Stockton Library.
Online at www.ancestry.co.uk and other sources e.g. family search.org
Online at www. findmypast /newspapers
Various Trade Directories
 More specific:
Online "GENEALOGICAL ADDITIONS TO THE HISTORY OF STOCKTON UPON TEES" W.D.Bayley 1848 
Brewster pages 152-154 
Cambridge in the Seventeenth Century ...: Autobiography of Matthew Robinson 1856, page  94 .  Available online at Google Books 
MARTON VILLAGE and THE GROVE CONSERVATION AREA: CHARACTER APPRAISAL AND MANAGEMENT PLAN.   Online at www.middlesbrough.gov.uk 
See B page 100 
See G above 
See G above 
Watson Alcock M.R.C.S. Credit: Wellcome Collection. CC BY 
J. Rowlands 1972  and online 2012   "Annals of a Teesside Practice 1793 – 1969" 
J. Machell see Heritage Stockton "Stories from the High Street"