The Victoria Cross (VC) is the highest military decoration awarded for acts of conspicuous bravery, valour, self-sacrifice or devotion to duty in the face of the enemy.
It is given to members of the armed forces of commonwealth countries and previous British Empire territories. It takes precedence over all other orders, decorations and medals.
The Victoria Cross was first introduced by Queen Victoria in 1856 to honour acts of valour during the Crimean War. The VC has been awarded 1,357 times to 1,354 individuals, since the Second World War only 14 medals have been awarded, 10 to members of the British Army and 4 to the Australian Army.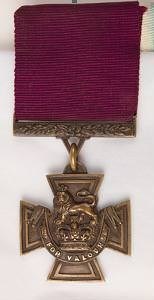 The VC medals are cast from the bronze of cannons which were captured from the Russians during the Siege of Sevastopol. As such there is a limited supply of the bronze from which the VC is made.
The front of the medal features the crown of Queen Victoria at the centre, above which stands a lion which is also adorned by a crown. Beneath is the inscription 'FOR VALOUR'. The cross shaped medal is hung from a crimson or wine-red ribbon and supported by a strip of metal called a 'suspender.' In the case of the Victoria Cross this simple design is adorned by leaves with the letter 'V' to denote Victoria.
This is the Victoria Cross won by Ned Cooper. It is currently on display at Preston Park Museum and Grounds where it is on loan from the Cooper family.