This is the third part, in a series about Paradise Row.  New readers may find it helpful to read the first part which has a general introduction about the street. Number 3, Paradise Row, now part of Gloucester House, was for a long time a separate property. According to Bayley writing in 1848, number 3, Paradise Row together with 4, 5, 6 and 7 had belonged to James Christopher Davidson.  Diagram 1 below, shows the general location of the property. Numbers 1 to 9 Paradise Row are currently 70 to 82 Church Road.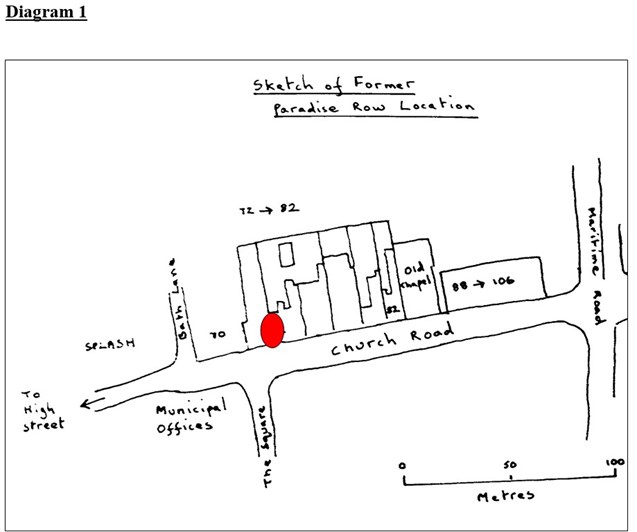 Like all of the other properties in this street, number 3 (red marker) shows typical Georgian features, some of which are labelled on photograph 1 below.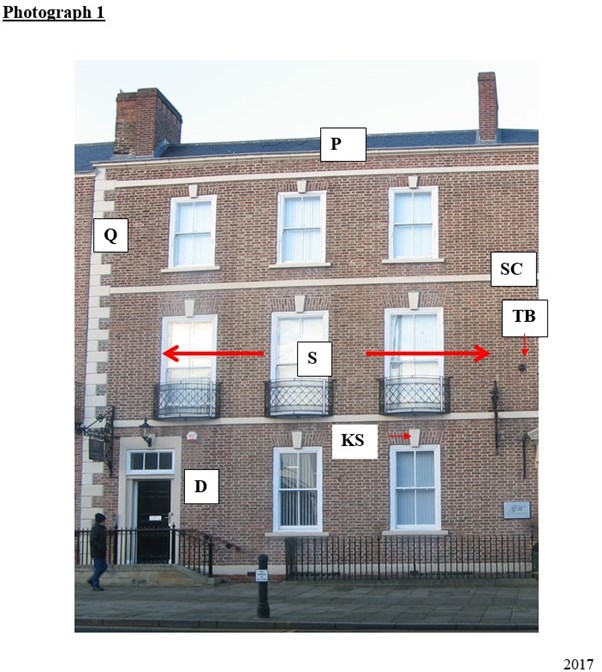 A brief for sale notice appeared in a number of newspapers in 1892 and described this property as available for a low rental and having:  3 sitting rooms, 8 bedrooms, 2 kitchens, storerooms and pantries, stabling for 3 horses.
Who has lived here?   Table 1 below, is a summary of the Census records for 1841 to1911.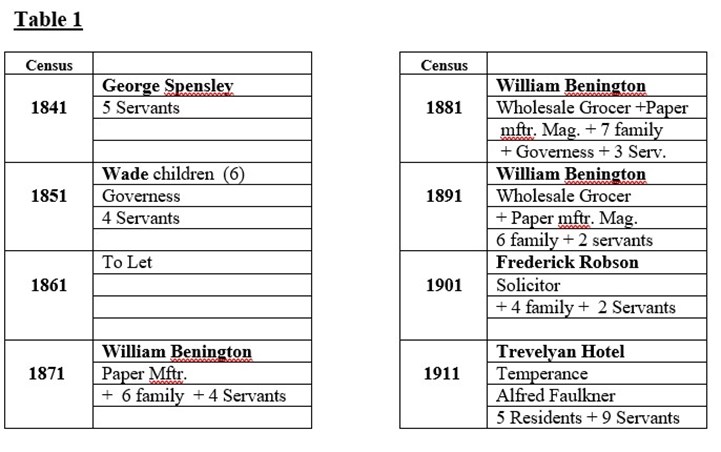 I have chosen to focus on the Benington family. The 1871 Census records William Henry Benington, a widower, living at 3 Paradise Row along with his six children. His first wife, Johnina Brougham Crewdson, died (aged 33) 11th March 1871 shortly after the birth of her son, Charles Edward, who is listed as 1 month old on the Census.
William Henry and Johnina were married in 1861 in Kendal Registration District. Johnina was christened 25th January 1833 at Kirkdale St.Mary, Liverpool. The 1871 Census shows William Henry to be a paper manufacturer employing 60 persons and that he was born in Wakefield.
Ten years later, the 1881 Census records William Henry still living at 3 Paradise Row but with his second wife, Rachel Ward Wilson (16 years younger), four children from his first wife and two from his second. William Henry and Rachel Ward were married in 1874 in Bridlington Registration District. William Henry is described as a Wholesale Grocer (employing 16 persons) and a Paper Manufacturer (employing 41 persons) as well as a Borough Magistrate and Councillor. William Henry was Mayor of Stockton in 1881.
The 1891 census shows William Henry, still a Wholesale Grocer and Paper Manufacturer, living at 3 Paradise Row with Rachel, his wife and 5 children. Sadly, William Henry died on 13th June 1891 aged 57. The 1901 Census suggests that Herbert Benington (William Henry's son) had become a partner in the family business.
At the time of William Henry's death, his father William Benington (aged 88), a Justice of the Peace, lived at Rimswell House, (1891 Census) with his daughter Caroline (aged 39). William Benington had moved to his new property of Rimswell House sometime between 1871 and 1881. William was mayor of Stockton in 1869. The 1871 Census lists William Benington as a Wholesale Grocer and JP living at North Lodge, Norton Road. The 1881 Census gives his abode as Rimswell House. Rimswell House (now demolished) was situated a little to the north of the later Rimswell PH and was part of an estate of 62 acres which then included Lyric Lodge. At this point, William is described as a retired Wholesale Grocer. It maybe of significance that Rimswell is also the name of a village in Holderness, East Riding.
In 1861 William, a Merchant, and his second wife Margaret lived at 1, Norton Road with their children, Caroline Crewdson and Robert Crewdson. The Census Records all give William's birthplace as Yorkshire. His actual birthplace was Skeffling, Holderness, November 22nd, 1802. So when did he come to Stockton? Quaker records show that William, a son of Robert and Rachel and a then resident of Wakefield, married Mary Smith in Stockton on 26th March, 1829 1. George Benington, William Henry's younger brother was born 09th February, 1836 in Stockton. So we can assume William Benington became a Stockton resident sometime before the birth of George and sometime after the birth of William Henry on 23rd November 1833. In 1841 the Beningtons lived in the High Street (east side), probably south of Finkle Street. In 1851 they resided at Blue House2 (demolished) which was located near what is now the Tees Barrage.
The Beningtons had a number of business activities: Wholesale Grocers, Tea Dealers, Warehouse (Silver Street), Paper Manufacturing (Tees Paper Mill, Egglescliffe, established 1832 by C.T. Bainbridge). They were also significant members of the town, being involved in and supporting various worthy activities see Electoral Rolls, Trade Directories, Newspapers, etc. A lot of information is available about the Beningtons and will be of great value for those with family connections or just an interest e.g. the Quaker connection. Of particular use are the detailed newspaper reports of the funerals of William Henry (1891) and his father (1896) which pay handsome tribute to their contribution to Stockton during much of the 19th century.
Reporting the appointment of William Henry as Mayor of Stockton in 1881 the newspapers 3 give a detailed summary of his achievements and activities. The following list is indicative but not exhaustive:

Senior partner of W. Benington and Sons, importers and wholesale grocers, Stockton
Senior member of Benington Brothers and Corner, wholesale tea merchants of Tower Hill, London
Senior proprietor of the Tees Paper Mills, Yarm
Member of the Tees Conservancy Board
A Director of the Tees Union Shipping Company
A Trustee of the Stockton Savings Bank
A Life governor of the Yarm Grammar School
A Life governor of the Newcastle Infirmary
A Director of the Stockton Coffee Palace Company
Honorary Secretary of the British and Foreign Bible Society, Stockton branch.
President of the Stockton Liberal Association
Vice President of the Stockton Church of England Temperance Society
More detailed investigation of the Beningtons is beyond the scope and purpose of this article but it is perhaps worth noting that a family gravestone lies in Oxbridge Cemetery as shown in photographs 2, 3 and 4 below.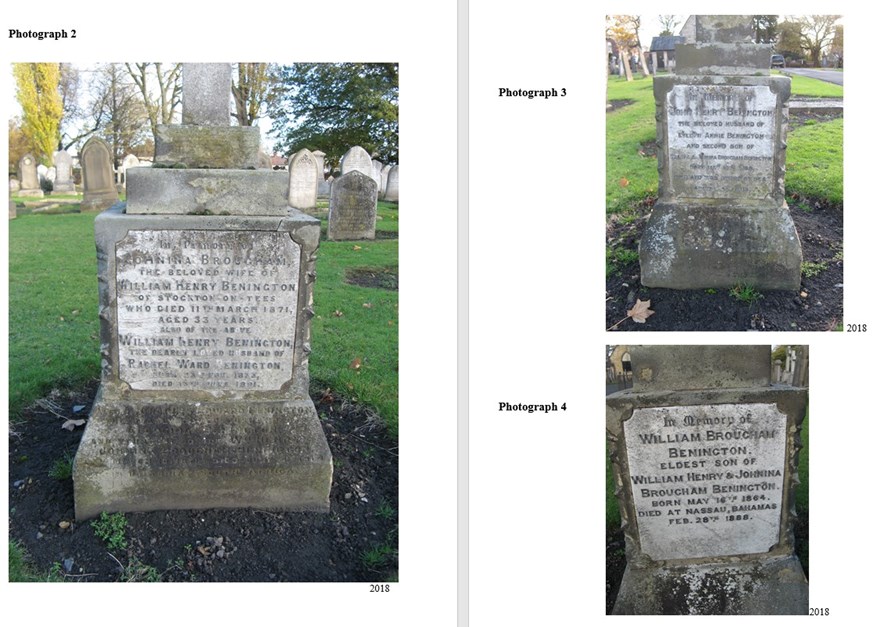 REFERENCES
General:
Sowler, Tom "A History of the Town and Borough of Stockton-on-Tees 1972 
Richmond, Thomas      "Local Records of Stockton-upon-Tees and Neighbourhood"  1868
Brewster, John              "The Parochial History and Antiquities of Stockton upon Tees, 1796" / "The Parochial history and antiquities of Stockton upon Tees  1829"
Heavisides, Henry "The Annals of Stockton-on-Tees with biographical notes" 1865
Parish records Stockton Library.
Online at www.ancestry.co.uk and other sources e.g. family search.org
Online at www. findmypast /newspapers            
Various Trade Directories
More specific:
Quaker records for Stockton
First edition O.S. map of Stockton 
Online at www.findmypast.co.uk